Do you have a little someone in your life who adores anything and everything pink? If so, then I'm going to hazard a guess that you're already familiar with a literary character who my own daughter adores like a real-life friend: Pinkalicious.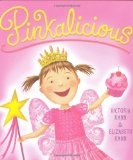 Victoria and Elizabeth Kann created the delightful character, who first appeared in Pinkalicious, and has also had more adventures in Purplicious and Goldilicious. I've even heard a rumor that she will be appearing again next year in Silverlicious. Just looking at Pinkalicious makes me smile- her cute ponytails, her big grin, her complete pinkness. (That last bit is for my daughter's benefit- she got a "girly-girl" trait that is new to me!)
While I'm a huge advocate for giving books as holiday gifts, I've also been known to pair those books with stuffed characters or accessories, especially when I know that the associated books are truly beloved by the recipient. Pinkalicious herself has hit the toy stores, and I'm happy to be able to share some details!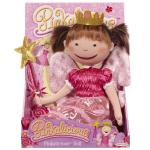 What could be better than curling up to hear a Pinkalicious story while holding a soft doll close? The Pinkalicious Large Soft Doll is the little girl herself, popped straight off the pages of the book! She's all decked out in her fairy princess dress, tiara and wings, with a wand grasped in her hand. The cute hair and smile are present, of course, and she's soft enough to cuddle with.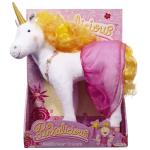 Her imaginary pet unicorn comes to life with the plush Goldilicious Unicorn. Paired together, Pinkalicious and Goldilicious's adventures can be reenacted by your little reader, and even better, new ones can be created!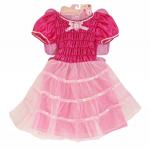 If dress-up play is also a favorite, children can don the Pinkerrific Fairy Dress and pretend away. The fairy wings are removable, and the size is for ages 3+.
Young Pinkalicious fans will love the new plush toys and dress-up materials, securing them a spot on holiday lists all over this year!
As part of our Gift Guide Giveaway, we're happy to offering one winner all three items- the Pinkalicious Large Soft Doll, Goldilicious Unicorn, and Pinkerrific Fairy Dress! (U.S. only, please)
This giveaway is now closed.
Dawn's children anxiously await the new books that greet them every Christmas morning. Their holiday tales will be shared at my thoughts exactly.

Leave a comment here to enter. Only one comment per person, please.
Entries will be closed on December 3, and we will announce the winners on December 4. Please watch your email and check the site for your name, so that we can collect your shipping information to pass along to the publishers.
Be sure you've entered all the giveaways in our 2010 Gift Guide and Giveaway event.

Check out our current giveaways. Subscribe to our feed. Follow us @5M4B on Twitter.