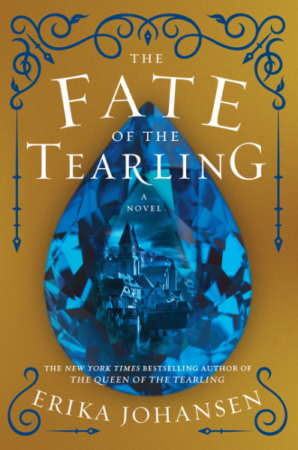 At long last, the much-awaited end of the Tearling trilogy, begun in The Queen of the Tearling and continued in The Invasion of the Tearling (both linked to my reviews). I have really enjoyed this trilogy, featuring Kelsea Raleigh Glynn as a young girl raised to be queen in a hidden cottage, learning upon ascending the throne that her kingdom is in terrible disarray, corrupt, unjust, and filled with terrible suffering. Kelsea responds with white-hot rage that is almost a righteous anger, but that sometimes veers off into something closer to revenge. In this final book, Kelsea must decide how much she is willing to pay to bring peace at last to her troubled land.
At the end of book 2, Kelsea took a terrible risk, handing her own self and her two magical sapphires into the hands of her arch enemy the Red Queen and her Mort army, in an attempt to save her kingdom from the more powerful invaders. Book 3 opens with Kelsea chained in a cart with a creepy jailer who beats her, bumping her way towards the capital city of Mort, Demense. Here she will endure being locked in a dungeon and taunted by the Red Queen. But Kelsea's magic allowed her access to the Red Queen's mind briefly and she knows the secrets, painful and shameful, that have propelled her to such abusive power.
Kelsea also passes into fugue states, where she revisits the time both immediately before and after her world began. It was founded as a utopia by William Tear, who magically forged a "Crossing" into a new earth from our (as in America 2016) future, a dark dystopian time when the divide between the have's and the have-not's has become a need for walls, and violence is an easily accessible means of control. Tear chooses certain people and brings them through on ships across a sort of Atlantic. In Book 2, Kelsea would slip into the life and mind of a woman named Lily both before and after the Crossing, and even in her own time, found herself transforming from a sturdy-bodied and average-looking young woman into the tall, graceful and beautiful Lily. Now, in her fugues into the past, she finds herself in the mind of a teenager named Katie.
William Tear tried to create a city of absolute democracy, where everyone was equal and everyone helped their neighbor. But within a generation, people are forgetting their ideals, and into their midst comes one who would destroy, spreading rumors and lies and division. Kelsea sees this happening, and recognizes that she is seeing in this time 3 centuries earlier characters from her own time who have survived–the Fetch, a handsome thief of all trades whom she had a crush on in Book 1, and Row Finn, an unearthly and evil man whom she released, something she will quickly regret.
Because there is a plague on the land, something destroying and mutilating entire villages, leaving only rumors of terror in its wake–the Orphan, a group of bloodthirsty children with superhuman strength who can be killed but who will never die, someone who controls fire, and more.
Kelsea quickly comes to realize that just about the only way to save the present is to change the past. But can that even  be done?
The Fate of the Tearling takes place almost as much in the past as in the present, but it grapples with some interesting ideas. Can people change or are they innately too selfish to ever look beyond their own personal wants and desires for the greater good? Will people always listen to whispers in the night rather than discussions at noonday? Can democracy exist if the leader is too revered or too powerful? Frankly, it's concepts like this that take the trilogy to a level deeper than that of most fantasy fiction, producing a thought-provoking read that still manages to be gripping and stirring. Although the first book is my favorite, I'm not disappointed with where the trilogy ends up. Highly satisfying, hard to put down, and just really enjoyable reads–I highly recommend them.
Goodreads: