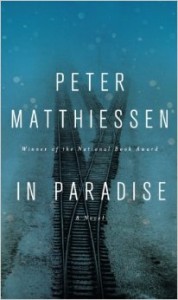 In Paradise
was not an easy book to read and it's not proving easy to review, but it's a powerful, thought-provoking novel. It was published on April 8, mere days after its author–the justly famous Peter Matthiessen–died. I kept having to put it down because I had other deadlines, and it's not a book to be rushed. The framework is fairly simple: an ecumenical group of people gather for a week during the winter of 1996 at Auschwitz to "bear witness" to the atrocities committed there through prayer and meditation. They are joined by Clements Olin, an academic who comes as an observer not a participant, who is researching the life of Tadeusz Borowski, a Polish poet who survived only to later commit suicide.
Olin has other goals too. His family, then named Olinsky, came from the region, his father in the calvary, his grandparents with land and titles, and his mother left behind in the flurry to get out before the German invasion. It's not until the deaths of his grandparents that Olin truly faces the reason she was initially left behind, and part of his reason for coming to the area, hidden in part even from himself, is to search for her and discover her story.
Gathered at Auschwitz are people from all backgrounds: American and Israeli Jews, Zen Buddhists, Catholic nuns, Poles, Muslims, and Auschwitz survivors. The Germans deal with guilt but the Poles deny they saw anything, while the Catholics struggle with the fact that that church turned a blind eye. One young novice in particular, Catherine, catches Olin's eye and seems particularly moved by the events she's experiencing. Cutting through any sentimentality or hypocrisy is the caustic voice of the oddly-named Earwig, who shatters any attempt at the kind of polite civility that leaves things unspoken or unnamed. He's a hard character to love but in some ways he is the conscience of the novel, forcing the others away from any kind of safety or from making any kind of peace with the horrors of the concentration camp. The book takes place just before the concentration camp was opened to the public as a place to visit, a tourist destination of sorts, and that provides another layer of things to contemplate and for Earwig to mock.
Olin's personal story keeps In Paradise
from being just a moving treatise on the nature of evil. The characters in the book experience extreme emotions and act out in ways that they wouldn't have in their everyday lives. The result is deeply moving, even at times shattering. I have pretty much stopped watching movies about the Holocaust–I have seen a lot of movies and read a lot of books and I know what happened, and me getting all upset all over again doesn't help anyone. But this novel isn't an exercise in cheap emotion at the cost of others pain. It instead looks long and hard at why such atrocities can happen, and at how the complicity of others allows them to happen, all wrapped up in this framework of people who care coming to a retreat in a place where something horrible happened, to remember. And although the ending isn't particularly happy, it is satisfying nonetheless. I highly recommend this book.