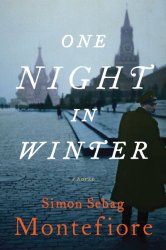 One Night in Winter
is a tale of love, and power, of hope and the lack of it. Set in Stalin's Moscow, it mixes fact and fiction to recreate a world in which anything you say can and will be used against you, and where you are never sure who can be trusted. Those who are trustworthy, however, can be found in unexpected places.
It's June, 1945. 18 year old Serafima is on her way with her parents to watch the Victory Parade, and afterwards to play The Game with her school friends. The Game is a re-enactment of a duel from Pushkin's famous poem Onigen, and she and her friends have formed a group called the Fatal Romantics. This is something they do fairly frequently, in 19th-century costumes and with dueling pistols borrowed from a theater. But by evening's end, two of her classmates lie dead, shot with a real gun, an event that will forever change the lives of all who are connected to it by even the most tenuous thread.
The problem is that Serafima and her friends–Andrei, George, Minka, Rosa, and others–are no ordinary teens. They are the children of the ruling elite, and they know each other from the exclusive school they attend, the school from which both of Stalin's children graduated. The plot moves back in time several weeks, to the beginning of term and Andrei's first day. He and his mother have just been allowed to return from exile; his father was arrested years earlier as an Enemy of the People. He's enthralled first by Serafima's beauty, then by a certain teacher who loves literature, especially Pushkin, and teaches his students to feel passionately about poetry. After the deaths though, the teens and teachers are arrested, one by one, and questioned brutally. They are required to testify against their parents, teachers, and each other, even their own brothers and sisters. One 10-year-old in particular is given the most brutal choice–to betray to an almost certain death either his mother or his father.
One Night in Winter
is more than a story of a brutal regime that feels threatened by the romantic excesses of adolescence though. It explores love and lust, adultery and betrayal on several different levels. It looks at family ties and sibling rivalry, at parental love and devotion sometimes given to children who are not one's own.
Author Simon Montefiore is a historian who has written a biography of Stalin, and his evocation of the streets of Moscow, the scents and feel of the prison, or the long stretches of countryside passed by train on the way to the gulag feel pitch perfect. His recreation of Stalin and the sadism and ferociousness of the man fit perfectly the individual responsible for the deaths of millions. His blend of historical fact and fiction is flawless. Yet this is ultimately a story about love and the places we find it, and what we are willing to give up for it–or not give up for it.
This is a gripping read, filled with unexpected twists and turns and a satisfying denouement. I can't recommend it highly enough.