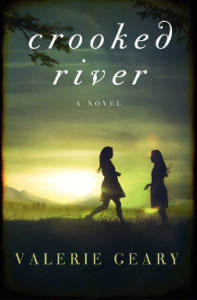 Just weeks after burying their mother and days after moving into a teepee in a meadow to live with their long-absent father, 15 year old Sam and her 10 year old sister Ollie find the dead body of a young woman in the river. As Ollie had stopped talking when her mother died (just as she previously did after the death of a relative), the responsibility of reporting what they've seen lies with Sam. Not saying anything about it to the authorities or to her father, Bear, becomes a decision that weighs on her conscience in coming days when their already loosely tethered new life begins to unravel.
The opening of Valerie Geary's debut novel Crooked River doesn't hold back. Readers first meet Sam and Ollie in the moment they see the floating body, only to learn of their recent misfortunes afterward. What started as a walk to the river in an attempt to have an appropriately carefree few moments quickly gave way to a discovery that had the potential to change their entire future.
The details of Sam and Ollie's childhood and family experiences are revealed a little bit at a time, with hints dropped along the way that help the reader begin to formulate theories, and the mystery of the dead young woman remains at the center of the story, the one thing that could unveil long-held family secrets and give context to questions Sam has had for years. The chapters alternate narrators between Sam and Ollie, with Sam's telling being the more straight-forward narrative and Ollie's focused on the supernatural elements that she believes are keeping her from speaking since her mother's death. The combination of these differing tones results in a read more like literary fiction with a mystery at its core, rather than a mystery novel itself.
Talk about a nail-biter. This novel had my heart racing, forcing me to put it down for little breaks, only to be brought back after only a few minutes because I couldn't bear to wait any longer. Though I'm not usually a mystery reader, this one gripped me with its strong character development and intense writing style. With elements of the supernatural, it could have felt forced and fake, but those components were written beautifully and emotionally, with a child's narrative voice that makes the unbelievable believable, and something that you end up rooting for. I loved this novel from the first word to the final page.