Dear Reader,
I am an author, and I want to tell you about the best reader ever. She approached my book signing table with a smile on her face despite the oxygen tank she was pulling and the clear tubes hooked over her ears like the girl in The Fault in Our Stars. Of course, I didn't know anything about that book back then, but I knew the importance of lungs. In the book this reader was asking me to sign, the first chapter opens with a young woman having a severe asthma attack that has devastating circumstances. I never imagined that one of my first readers would be a thirty-something mom pulling an oxygen tank standing at my book signing table, and I worried about how the scene would affect her.
I heard from her soon after and she loved the book. She wanted to have coffee to talk about it, and so we did. It didn't seem odd at all to be invited by a reader in my hometown to have coffee, even if she was a stranger. She turned out to be delightful. Over time we communicated occasionally. She read the second book when it came out, and then wanted to know when the one was coming, specifically the one about the coma.
When I had coffee with that reader, I had told her about an idea I had for a new book. It would start out with the main character in a coma, aware of everything that goes on around her. It was nothing like the books I had already written and I wasn't sure it would even be believable. My reader friend surprised me by explaining that she had been in a medically-induced coma once, and assured me that she heard things that were said around her. It was more than possible because it had happened to her. She said she couldn't wait to read it.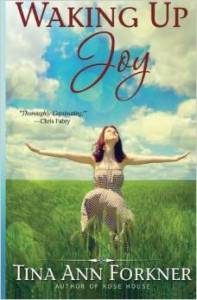 Over the years, she sent me messages that she was waiting for my next book, and I can't even tell you how nice it was to hear her say that. It wasn't just nice, it was encouraging. Unfortunately, years passed before my third novel, Waking Up Joy, would be contracted by a publisher. When I was finally sure about its release, my reader friend is the one I really wanted to tell. I hadn't heard from her lately, but I wanted to let her know that her comments during our coffee had encouraged me to finish the book. Every time she had contacted me to say she couldn't wait for my next book, it had meant something to me. And even though the book wasn't about her, I was grateful that she shared her coma experience with me. I wanted her to know that.
When I went to her Facebook page, it was obvious that she had passed away. I messaged one of the people who had left a note of remembrance to her, and she explained that my reader friend's lungs had finally given out. I was deeply saddened for her loved ones, but I was also sad I couldn't share the book with her after so much time. Her friend assured me she would have liked knowing about the book, and based on our author-reader exchanges from years past, I think she would have too.
I still thanked that sweet reader in the acknowledgments of my book, even though I wish it didn't have to be posthumously. I would have said more to that reader if I could have talked to her again, face to face. What I didn't get to tell her when she was alive was that her being one of my readers was important to me, and her words to me affected the words I put on the page. I am so grateful. And not just her, but all of my readers are important to me. I think all authors feel this way.
Readers matter to authors. Your words have weight, sometimes more than our own. The fact that you would even take the time to read a book we wrote is a gift to us. And sometimes, what seems like a random email, letter, or social media status update to you, is seen by us, and it inspires us to keep writing. In some instances, a word from a reader can even affect what we write. So, keep supporting your favorite authors. You aren't just an invisible person out there turning the page. To us, you are a reader, we know you are a real person, and we love to tell you a story.

Guest contributor Tina Ann ForknerTina Ann Forkner is a Women's Fiction writer and the author of the new novel Waking Up Joy. She is also the author of Rose House and Ruby Among Us. Tina makes her home in Cheyenne, Wyoming with her husband, three teenagers, and two spoiled dogs. Learn more about her and her books at www.tinaannforkner.com