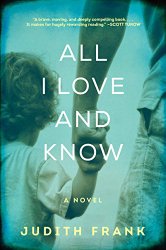 Rife with emotions like grief and sorrow, All I Love and Know by Judith Frank (William Morrow, July 2014) takes readers to dark places in the telling of an evocative story of loss, identity, and love.
No doubt about it, this novel starts right in the middle of a terrible tragedy, and the aftermath of the cafe bombing that killed Daniel Rosen's twin brother and his wife seems capable of upturning the lives of everyone in the family. Daniel and his partner Matthew live together in Northhampton, Massachussetts, a town with a supportive gay community. Matthew left behind the NYC scene to settle down with Daniel in this small town, and their days have a comfortable routine. When Matthew receives the call informing him of the bombing in Israel, he bears the burden of telling Daniel, and not only must Daniel try to process this unbelievable loss, but he immediately remembers that his brother and sister-in-law had asked him to be the guardian of their children if something ever happened to them. 
Left behind are two young children, six-year-old Gal and infant Noam, along with two sets of grieving grandparents who have differing ideas about what is best for the children going forward. Daniel is determined to honor his brother's wishes and raise the children, but the massive transition, especially coming at a time of such deep sorrow, proves challenging to all aspects of Daniel's and Matthew's lives and relationship.
Frank writes with compassion and emotion, and each character's turmoil is deeply explored in the narrative in its own particular manner. For Daniel, grieving is a process for which he doesn't have a script, and as a result, he turns inward, unintentionally shutting people out when he needs the support most. Matthew's experience is that of the outsider, and trying to support and care for someone who pushes him away becomes increasingly frustrating. In the throes of adjusting to this post-bombing life, neither Daniel nor Matthew can truly express what he needs or wants, and the effect on their relationship is inevitable, but painful to watch progress. Maybe even more painful to witness is Gal's experience, who at such a young age is struggling to accept a world that no longer includes her parents.
I found it interesting to meet these characters at such a charged moment– their lives will never be same from this point on, and readers get to know them as they are rewriting their lives. Heavy themes abound here, from mourning the loss of a twin brother, and all the reevaluating of that relationship that happens in the process, along with the process of creating a new family unit in the aftermath of the loss of the parents of two young children. Add to that a thought-provoking perspective of the Israeli/Palestinian conflict, unfortunately quite relevant at this very moment, and there is much to weigh in the reader's mind while being engrossed in the very well-written narrative.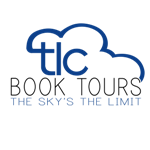 We're happy to be participating in the TLC Book Tour for All I Love and Know. Check out all the stops on the tour to hear other book bloggers' opinions of the book.
Check out our current giveaways. Subscribe to our email feed. Follow us @5M4B on Twitter or on Facebook.