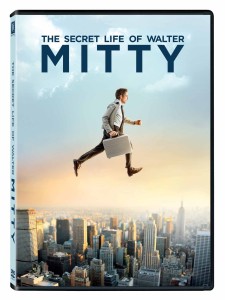 Last winter, I was intrigued by the ads for the upcoming film The Secret Life of Walter Mitty, not only for my love of most things Ben Stiller touches, but also because I had a vague memory of the short story penned by James Thurber that I knew I had read way back in my school days. I recently watched the film, now out on DVD, with my husband and our 13-year-old son, and I was pleasantly surprised by how much all three of us enjoyed it.
Thurber's 1939 short story (only $0.99 on Kindle, at the time of this writing!) just so happened to be included in one of my son's 8th-grade language arts books, so I read it again all these years later, and was amused by his signature humor and storytelling style. However, the story in the pages of an early 20th century Walter Mitty escaping into fantasies seemingly to drown out the dull aspects of his life (and possibly his nagging wife), didn't quite match the images of a modern-day Ben Stiller working on the photo covers of LIFE magazine and trying to woo Kristen Wiig's character. I had no idea what to expect when we finally popped in the DVD.
As I suspected, the story of the film has very little in common with the original short story, beside the fact that Walter Mitty zones out in uncomfortable moments, imagining a life far grander, exotic, and adventurous than his own. The film version of Walter Mitty is not married, and in fact, he has a secret crush on a co-worker, with whom he's trying to connect on a dating website instead of in real life at the movie's opening. This reserved man is pushed outside of his quiet routine in both his personal and work lives when an ultra-important film negative goes missing, and he leaves his imagination behind as he strikes out on a series of incredible real-life experiences.
A term that I recently introduced to my son– "suspension of disbelief" — came into play quite a few times while we viewed this movie, but there was a playfulness to the whole story that made it completely acceptable. We especially enjoyed watching particular scenes and trying to figure out exactly when Walter Mitty was switching over to his imagination's rendering of a moment, and when I read online that each of his daydreams actually foreshadows an event to come, we kept shouting out scenes that connected with each other.
I'm not sure that this film performed as well at the box office as was expected, but I, for one, am disappointed that I didn't get to see it at the theater, because the beauty of the film would have been even more amazing on the big screen. Portions of the movie were filmed in Iceland, and the scenes are seriously majestic. What a treat it was, as well, to watch a film with our 13 year old that was entertaining for all and quite low on any objectionable material in the form of profanity, violence, and sexual content.
Have you seen The Secret Life of Walter Mitty? What did you think?
Check out our current giveaways. Subscribe to our feed. Follow us @5M4B on Twitter or on Facebook.