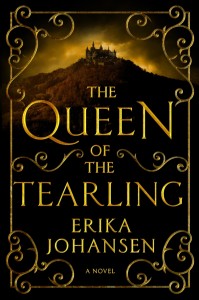 Given the chance to start over, would humanity actually change or would our societies still be plagued by the same problems we face now–corruption, exploitation, violence, poverty and disease? Author Erika Johansen imagines a world in which humanity attempted to begin anew in a sort of utopia, only to find themselves within a few hundred years living in a sort of medieval world, with horses as transportation and swords and arrows for weapons, and feudalism and sex-trafficking and slavery all functioning as well. But the story opens with a bookish and isolated girl hiding in a tree, watching the horsemen come and knowing this is the day her life irrevocably changes.
The Queen of the Tearling
is a great read–just a really enjoyable story that's partly a coming-of-age tale, as Kelsea ascends the throne on her 19th birthday, part a book about social justice and the issues she faces, and part a fantasy of mystery and magic. I really enjoyed it. Read the rest of my review and enter to win a copy over at 5 Minutes for Mom.