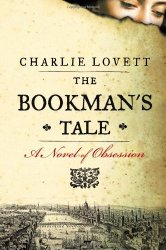 Peter Byerly is a single-minded man with two obsessions–his wife, Amanda, and old books. 9 months after Amanda's sudden, unexpected death, he relocates to the English countryside and one day, he manages to get out of the house and visit an antique bookseller in Hay-on-Wye, Wales. There, tucked between the pages of a Victorian-era book, he finds a watercolour of Amanda's face staring out at him. Of course it can't be her–the portrait is unmistakeably Victorian, painted by someone with the initials B.B.–but the resemblance is uncanny. Peter buys another book, slips the portrait inside, and begins trying to track down the artist, thereby beginning a quest that will take him much further than he ever dreamed.
The Bookman's Tale
is a really fun book. It follows the path of an original manuscript by Robert Greene, a contemporary of Shakespeare whose book provided inspiration for A Winter's Tale. It shows how Peter grows from a socially inept college freshman to a  successful husband and antique bookseller and book binder, in large part because of the confidence he gains through Amanda's love. It shows him coming back as if from the dead himself, as he struggles out of the despair into which Amanda's loss cast him. It takes us into lives throughout the ages, from a Victorian would-be artist and philanderer to the illegitimate son of a Elizabethan prostitute.
Bit by bit, the mystery is revealed. We track the manuscript through the ages, never knowing if it will survive each current onslaught that threatens it, never knowing if the script held in modern hands is a forgery or not. Peter's own quest takes him to some strange places and puts him in real danger, yet his new obsession slowly and inexorably brings him back to life again.
The Bookman's Tale
is a wonderful tale for anyone who loves books and their history. It really is a book-lover's book. A literary mystery that moves back and forth in time, it celebrates the loves in our lives–both real and those found between the pages–and ends with a satisfying solution that will have you hurrying to the end even as you take the time to savor mysteries revealed. It's a fantastic book, and I'm already recommending it to all the readers in my life.