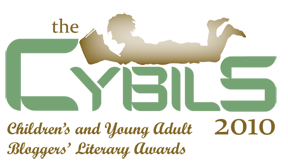 The Cybils are here — the Children's and Young Adult Bloggers' Literary Awards. For more info on exactly what they are, check out the FAQ page.
Jennifer and Dawn are pleased to be serving once again as panelists. We are both giving Round I a try this year, helping to winnow all the nominees down to a handful of finalists from which the Round II judges to select a winner. Dawn is on the Fiction Picture Book panel, and Jennifer is on the Middle Grade Fiction panel.
Nominations are open until October 15. Perhaps there's a book that was published between October 2009 and October 2010 that you think deserves a look. Check out the nomination guidelines HERE. Then be sure to check the descriptions of the category that you are looking to nominate in.
The shortlisted titles always get a lot of attention. Nominating a book for consideration is a way to give it an extra boost — and books and authors and publishers need all the help they can get.
Everyone can nominate one book in each category, and each book can have only one nomination, but there are SO many good books out there.

Here are some books that we would nominate if we hadn't already used our nomination. In fact, I (Jennifer) will be truly grieved if a few of these don't get nominated. Maybe you think that they deserve a nomination? Here's the form link. You'll need the ISBN number which you can find on the book or on amazon (that insures that each nomination is unique).
JENNIFER
Nonfiction Picture Books:
I nominated Up We Grow, but it was hard for me to decide between it and Wholey Cow. I am also a huge fan of the "Looking Closely" series, and they have an eligible title this year: Looking Closely in the Rain Forest.
Fiction Picture Books:
I nominated Memoirs of a Goldfish, but several other titles are just as worthy: Chester's Masterpiece and a late-breaking contender Betsy Red Hoodie. I was really torn. (Update: Both of these books have now been nominated — YAY!)
Middle Grade Fiction:
I was also really torn here (Do you see a theme?). I had planned on nominating I, Q: The White House, ever since I read it over the summer. Then days before nominations opened, I finished The Kneebone Boy, and I knew I had to nominate that one. But I really hope that I, Q gets nominated, because it's so original (Updated — it got nominated!).
Poetry:
This is the category that's killing me! I do love my nomination, because to me, poetry for kids should be silly, and this one is: The Tighty-Whitey Spider. But this week I got a book in the mail that is spectacular. I'd have nominated it instead, and so I'm really hoping that someone else has seen it and gives it the nod. The illustrations are beyond beautiful, and the rhythm of these non-rhyming poems is so clever. Read more in my review for I Didn't Do It. Let's Have a Bite is pretty original as well.
DAWN
When I tried to put together my list of nominations, I found it to be a fun challenge, as I got to revisit books that have brought me joy and wonder this year.
Young Adult Fiction:
When I read After Ever After by Jordan Sonnenblick, I knew instantly that this was a book I would be thinking about for a long time. I was thrilled to be able to nominate it in the YA Fiction category, but that meant that I couldn't nominate the debut title from Jon Skovron that I enjoyed so much- Struts and Frets. I do hope someone recognizes the authentic voice that Skovron created here in his coming-of-age story that blends teenage relationships and a love for music.
Nonfiction Picture Books:
I was happy to nominate a book that we recently discovered at our library, More Life-Size Zoo by Kristin Earhart, Teruyuki Komiya, Toshimitsu Matsuhashi, and Junko Miyakoshi. With amazing photographs that fold out of the book to truly be life-size, this book amazes. Another book stood out to me in this last year, though. Craig Hatkoff's Leo the Snow Leopard, a picture book in the style of his previous amazing animal stories, such as last year's Winter's Tail.
Fiction Picture Books:
Okay, this is the tough category for me, most likely because this is the type of book that I read the most often. (The 2- and 4-year-old are enthusiastic listeners!) I watched the clock count down to midnight with my hand poised on the mouse so that I could be the person honored to nominate Mo Willems' City Dog, Country Frog, a book that is beyond incredible. As I watch the list of nominations grow, I'm seeing so many worthy competitors, but there are still several that I feel should most definitely be on this list. Rubia and the Three Osos by Susan Middleton Elya made me laugh and appreciate a darling new closure for a familiar story. Calvin Can't Fly: The Story of a Bookworm Birdie by Jennifer Berne was immediately adored at first glance. A bookworm- now that's something I can understand. Eight Days: A Story of Haiti by Edwidge Danticat is just beautiful, and Hope Vestergaard's Potty Animals never ceases to crack me and the kids up!
Check out our current giveaways, subscribe to our feed, and/or follow us @5M4B on Twitter.