Kids generally like stories about pets. Whether they actually own that pet, or simple beg yearly to get one, domesticated animals are usually a safe and appealing topic for a children's picture book. Here are three that we've recently enjoyed: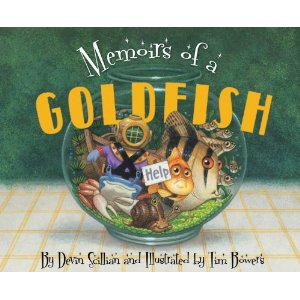 Memoirs of a Goldfish is the kind of book my 6-year-old son and I really enjoy: brightly colored, funny, and original (In fact, Memoirs of a Goldfish was his pick that I featured in June, linked to my review). It is published by Sleeping Bear Press and lives up to the high standard that I've recently come to expect from them.
Seeing as how I love to read "real" memoirs, the fact that this book is written as 14 different daily diary entries from the goldfish was quite amusing to me.
This goldfish's life is a little boring, at first. All he can do is swim around his bowl. He wishes for better scenery and someone to talk to. As with most of our wishes, getting what he wants isn't as satisfying as he thought it would be, and all the new inhabitants and items cause him to stake his claim on his bowl.
At first, I found keeping up with all the characters confusing. They all have names, and are referred to by name (not type of sea creature: snail, Angelfish, crab etc), and my son had to ask repeatedly, "Which one is that?" However, in our subsequent read-throughs, he's become more familiar, and I think it's helped the story to hold up. Yes, it's a book that we've already re-read many times, and will likely become a favorite in our house.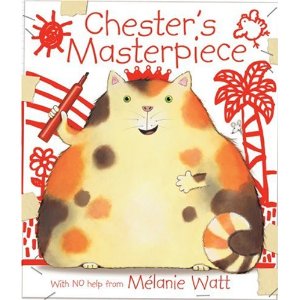 Like the Scaredy Squirrel books that she also writes, the Chester books by Melanie Watt are bright, silly, and original, and must-owns in our home. If you aren't familiar with this series, Chester the cat is the star of the book. Melanie Watt is the author. In each book, Chester the character struggles with the author Melanie, wresting the red editing marker from her and writing the story to fit his own desires. When I found out that the third book, Chester's Masterpiece, was being released, I hoped it would live up to the other two. I have to say that I think it exceeds them. I do enjoy the premise, but don't find it nearly as hilarious as my kids, 6 and 11, do (and they do find them hilarious). But in Chester's Masterpiece, Chester is determined to write his own story. As he does this, author Melanie Watt guides him in creating character and conflict. What a creative and interesting way to introduce kids to the structure of a story! I can see teachers using this in the classroom with young elementary school students to help them identify these elements, or even as a help to older elementary students who begin writing their own stories.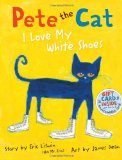 The two books reviewed above are probably most appropriate for kids five and up, but Pete the Cat: I Love My White Shoes will appeal to preschoolers as well. It's a story about colors. Pete's shoes are white, but as he takes a walk, they get stained, blue from blueberries, red from strawberries, brown from mud, etc. The art is whimsical and bluesy, which nicely complements Pete's character, because he is one cool cat. I think that his attitude to getting his shoes stained serves as a nice understated reminder to kids that age who can be so volatile. Though this is a story about colors, which is perfect for young preschoolers, the plot and humor is enough that it also interested my six-year-old son.
Jennifer lives in Connecticut with a friendly black dog, but her children frequently beg to add other pets to their family, such as a cat, a fish, a lizard, or a bird. If they add another living animal to their home, you'll hear all about it on her Snapshot blog.