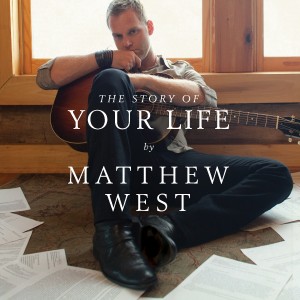 "This is the story of your life; you decide how the rest is going to read. . . . This is the story of your life, and it's worth telling" (from the title song).
Sharing our story with someone or listening to others' stories bolsters us, gives us courage, gives us hope.
For his newest project Story of Your Life singer/songwriter Matthew West asked his listeners to submit their stories.
This is not your legacy. This is not your destiny. Yesterday does not define you.
–Family Tree
The 10 songs on the CD are inspired by the 10,000 stories he received. You will hear your story or the story that you are fortunate you haven't been asked to tell on this CD.
All I want is the way it was when love would always last forever, and families stayed together, back to the day before two houses.
–Two Houses
"Reason for the World" explains earthly suffering from a Biblical perspective as well as I've seen it addressed anywhere.
This CD is all I've come to expect from Matthew West — an awesome sound and soulful, grace-filled lyrics, but it's very musically diverse as well. "My Own Little World" has that Matthew West/Toby Mac sort of sound that I think he's most associated with. "Healing Has Begun" has a little different bluesy classic rock sort of sound, and "Two Houses," well, it's just awesome — the music and the words.
Every single time somebody reaches into the darkness, makes a choice to help the helpless, they let mercy save a life.
–One Less (broken heart in the world tonight)
Since our Audrey Assad CD giveaway was a hit, I'm pleased to be able to offer you another one.

One of you will win all FOUR of Matthew West's CDs and a special book with the stories behind the songs and Matthew's commentary. He's one of my favorite Christian artists, and if you haven't listened to anything beyond his radio singles, you are in for a treat. Maybe you are already a fan, but haven't heard some of his older work. Or maybe you're like me, and you have all of them, but didn't realize a new one was out. How fun for you to be able to win the newest one, and share the backlist with someone else.
I wrote up why I love Matthew West's music (and linked to the other CDs as well) over at my blog Snapshot when his last CD came out. You can read about Going Through the Motions if you'd like more info.
Just leave a comment if you'd like to win (U.S. shipping addresses only). I'll announce the winner of this awesome prize pack from EMI music on October 20. This giveaway is closed!
Check out our current giveaways, subscribe to our feed, and/or follow us @5M4B on Twitter.

Read about the everyday story of Jennifer's life at Snapshot.