When you are drawn to the story, as I am, you can be touched by any sort of story — a "reality" show (because, really, we all know that a lot of that "reality" is created in the editing room, right?), a TV series, a movie. But music tells a story as well. In fact, I think that many musicians are our modern day poets.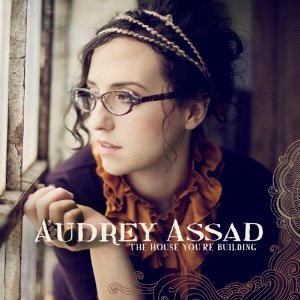 For that reason, I decided to feature a contemporary Christian music CD giveaway that I was offered over at my personal blog right here. Audrey Assad's debut work The House You're Building is awesome.
Seriously, I love it. It's somewhat mellow, it sometimes rocks, it's original, and the lyrics are introspective but not overly deep or convicting. Listen to the songs at her myspace or facebook page.
It's really the story of God turning brokennness into wholeness. A story of submission to God's transforming power.
I don't listen to music as much as I'd like. I listen to kids' music, or Broadway soundtracks (also pretty kid friendly), or in the rare time that I don't have kids around talking to me or making some other kind of noise, be it in the car or in the house — I like silence. Good old fashioned lovely restorative silence.
But driving around the last couple of weeks with The House You're Building has been great. I've found myself humming the tunes, especially "For Love of You" (linked to a cool youtube video) and "Everything is Yours."
She's toured with Chris Tomlin and Tenth Avenue North (who I have recently begun listening to as well and loving), and has recorded lyrics and vocals for Matt Maher. Her sound probably reminded most of Sara Groves, but like I said, it's completely original.
Even if Christian music isn't a go-to for you, you might like her contemporary inspiring sound. Though the songs are definitely referring to a spiritual journey, they are the kind of songs that I could see easily going mainstream outside of the Christian market as well.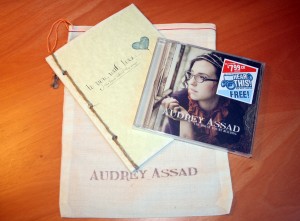 I am happy to offer a very cool prize package, which features the artist sharing her view of the story with one of you — a lover of the story.
Audrey has hand drawn lyrics for each song on her album. They are put together in a really cool bound book to give listeners an insight into the story behind each of her songs. The giveaway features the lyric book and her debut release along with a personalized bag (see above).
This giveaway is open to US and Canadian residents. Just leave a comment to enter. We'll announce the winner on August 4. THIS GIVEAWAY IS CLOSED.
In the meantime find out more at youtube, her myspace or facebook pages or listen to clips of all the songs on The House You're Building at amazon.com.
Disclosure: I received a copy of the CD, which I've been enjoying immensely.