Are you still looking for gifts for those hard-to-buy-for folks on your shopping list? It should come as no surprise to you that we are big advocates for wrapping up a book or two for the holidays. Last week we shared some of our favorite picks for young readers in Our Picks for Kids' Book Gifts, and this week we're turning our attention to nonfiction books that might make great gifts for people who like to read but might not lean toward the latest novel. We'd love to hear if you think anyone you know would enjoy these picks!

See what some of us would recommend in the nonfiction category below, and please feel free to share your own suggestions in the comments section.
NANCY
This was a slow non-fiction year for me, I don't read a  lot of non-fiction as it is but this year I only read a handful. However one of the books I did read really stuck with me and is one I highly recommend: The Immortal Life of Henrietta Lacks. This story of the woman whose cancer cells were the first to be successfully grown in culture is eye-opening and heartbreaking. My full review contains more details on this important book which was published a few years ago but should be read by everyone.
Unbroken: A World War II Story of Survival, Resilience and Redemption has also been out for 2 years and is also a book I highly recommend. Louie Zamperini's story of his capture and imprisonment during the war is inspiring, as is the almost 95 year old who is still active and doing motivational speaking. Read my full review.
CARRIE
I'm a big fan of non-fiction books myself. If given the choice between fiction and non-fiction, I tend to go the non-fiction route. I absolutely love history and so I seek out biographies and autobiographies. (I second Nancy's recommendation of Unbroken! I haven't met anyone yet who read it and didn't like it!)

My first recommendation out of books I've read this year has to be Lady Almina and the Real Downton Abbey. This one is sure to be a hit for any fans of the popular BBC show but it also appeals to the history buff as well. (Who knew that a former Earl of Carnarvon was connected to the discover of King Tut's tomb?!) This is just a fun book. Read my full review over at Reading to Know.
I'm gifting this title this Christmas to a few people who I know love the show and/or reading history books as well.

Being a Christian, I also pick up quite a few books throughout the year that relate to my faith. One particular title that I connected with this year was The Fruitful Wife. It focuses primarily on developing the fruits of the spirit (i.e., love, joy, peace, self-control, etc.). It is extremely convicting in one of those horrible/wonderful ways. Because I didn't want to be the only one convicted by it, I've gifted it to a few friends this Christmas (heh). One friend already told me she has begun reading her copy and finds it incredibly applicable. It's a fantastic book and I highly recommend it. Again, read my full review over at Reading to Know. I fully intend to re-read this book for myself. Several times, more than likely.
DAWN
I have to admit that I'm not a big nonfiction reader myself. While my husband is happy to hunker down with a book about a war of days gone by, any inclination toward nonfiction that I may have leans more toward memoir and humor. That being said, my three picks run the gamut from interesting to hilarious.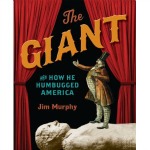 While it may technically be billed as a book for older children, I was fascinated with the story of The Giant and How He Humbugged America. "The Cardiff Giant" amazed people from near and far in the late 1860s, and this fun nonfiction account of the rise — and eventual fall — of this "national treasure" might appeal to lovers of unique pieces of American history!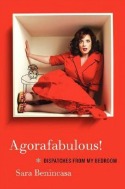 Sure, it sounds really odd to describe a book about panic attacks as hilarious, but there's no denying that Sara Benincasa's memoir about her struggles with anxiety, panic attacks, and agoraphobia is full of heart and a ton of laughs. Agorafabulous!: Dispatches From My Bedroom had me simultaneously laughing and feeling compassion for the author. If you have a memoir-lover on your list, especially one with an irreverent sense of humor, this is the book to buy.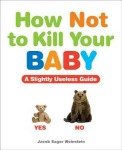 And finally, if you've got anyone on your list who will soon be welcoming a new baby into his or her family, then you will be the life of the party when you give them How Not to Kill Your Baby: A Slightly Useless Guide. Oh, the funny factor is so high, and I can't think of anything that new parents need more than a good laugh sometimes (which is easier to provide for them than a full night's sleep!).
ELIZABETH: My two favorite non fiction books this year both fall into the category of memoir, which is the kind of non-fiction I enjoy most. Both also deal with other cultures, another plus for me. And both show the harsh realities of life for some, and make me grateful that I have been given the life I have.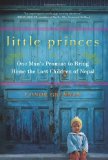 Little Princes: I really enjoyed this account of a young man whose life was turned upside-down by the children he encountered on what was supposed to be a 3-month stint at a Nepalese orphanage. Grennan finishes his 3 month stint, then goes on to spend the next 9 months traveling the globe, as planned. But he can't get the kids out of his mind and it becomes clear to him that he needs to return to Nepal.
The change of heart was sparked by his discovery that the boys weren't really orphans when the mother of two of the boys showed up at the door. Grennan and the other volunteers found out their charges had been trafficked. They were all from a remote province where the fighting was terrible and an unscupulous man approached families and offered to take their children to safety in Kathmandu, for a large sum of course, and then dumped the kids onto the streets of Kathmandu while their supposed guardian returned for more children and more money. Grennan vows to return them to their families, and there follows an exciting tale of adventure.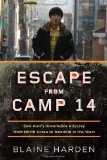 Escape from Camp 14: I made all my family read this book. Shin Dong-hyuk was born in Camp 14 in North Korea, a gulag that defies imagination and that has existed far longer than the gulags of Stalin or Hitler's death camps. There live people punished for life because they are relatives of someone who defected from North Korea, or the children of those relatives. He grew up in a world in which concepts such as love, mercy, forgiveness, and God did not exist. He is the only person known to have escaped a North Korean concentration camp and lived to tell the tale. There are tens of thousands of people in those camps today, camps whose existence is denied by the North Korean government but which are clearly visible by satellite and even on Google Earth. This story reflects current reality. It's not an easy book, not least because Shin struggles with freedom, but it's worth reading. Shin's story is told by journalist Blaine Harden.
Check out other books we've reviewed for more gift ideas
We've used the Gift Ideas tag frequently this month, so feel free to browse it.