I woke up in a panic shortly after dropping off last night, worried because I still haven't started my Christmas shopping. Well, I've sort of started, but I'm nowhere near finished. For those of you in a similar situation, or for you freaks organized people who are mostly finished but just need a couple more items, I suggest giving books. Here are 3 suggestions for the wine lover on your list.
This is a gorgeous, coffee-table book that nonetheless packs a lot of information between its covers. It focuses on the Rioja region of Spain. From stunning photographs that will have you looking up airline prices to listings of the traits and offerings of all the specific wineries of the area; from history lessons (did you know the Castilian language, the second largest language in the world, began at the Yuso Monastery in La Rioja in the mid-11th century?) to biographies of various winemakers, this book comprises a full education of the wines, terrains, peoples and history of the region. The only problem with buying this as a gift is that you may just want to keep it for yourself. Better get two copies.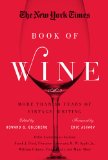 The New York Times Book of Wine: More Than 30 Years of Vintage Writing
:
Another fun book that you'll want to keep around to dip into from time to time, this collection of 40 years of writing about wine from the New York Times gives a glimpse into how American attitudes towards wine have changed drastically in a generation. Current wine critic Eric Asimov, writing in the  foreword, says, "Back in 1972…the managing editor…assigned…a city reporter to write a weekly column on wine. It would be the first regular coverage of wine in a general-interest American newspaper, though nobody was certain a desire for such reporting actually existed. 'We'll try it for a couple of months, Prial recalled Rosenthal saying.'"(p. xi) Of course now things have changed drastically–Americans have moved far beyond jug wine of indeterminate heritage and instead knowingly discuss varietals and vintages and harvests and years. Topics are as far-ranging as how to understand winespeak, the dry white wines of the Ukraine, whether letting your teenagers sip wine with dinner helps prevent later binge-drinking, wines of South America, and more, written by many different writers over the years. A great reference and an enjoyable way to increase your wine knowledge.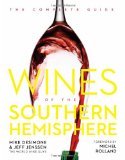 Wines of the Southern Hemisphere: The Complete Guide
:
This book does not exaggerate when it announces it's the "complete guide." From Argentina to New Zealand, South Africa to Uruguay, this comprehensive book provides details on all the wineries and varietals from half of the world. Wine journalists (I know! I want to be one too) Mike DeSimone and Jeff Jenssen traveled extensively throughout 7 countries and produce their findings for us. Each vineyard is given approximately a page, and gives a brief description of the winemakers and their philosophies of wine-making as well as which varietals they produce and which wines are their best. Packed with a lot of information in one volume, this handy reference guide will take the wine-lover in your life on a journey through a part of the world that is becoming more and more known and popular.