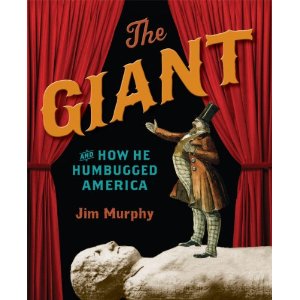 "On Saturday morning last the quiet little village of Cardiff.. was thrown into an excitement without precedent, by the report that a human body had been exhumed in a petrified state, the colossal dimensions of which had never been the fortune of inhabitants of the little village to behold…" –Syracuse Daily Courier, October 18, 1869
The Giant and How He Humbugged America tells the story of the 'Cardiff Giant,' an amazing discovery made on William Newell's farm when a crew of men worked to dig a second well on his property. After a few hours of digging, their shovels hit something unexpected, and soon they saw something that looked like a blue-gray stone foot!
When it was fully uncovered, a ten foot, four inch long giant lay before them. William Newell and the company of men floated some theories– perhaps the myths of the Onondaga Indian tribe that spoke of the Stone Giants were actually real. Didn't the Bible itself tell of giants? Could these men have unearthed physical evidence to prove these stories true? Over time, the story of the Cardiff Giant spread, and soon he became a public spectacle. Scientists were brought in to examine the giant, and the consensus was overwhelmingly in favor of declaring this a huge petrified human being.
The complete history of the rise, and eventual fall, of this unbelievable discovery is told in this really cool piece of nonfiction for middle grade readers. Complete with actual old-time photographs of the Cardiff Giant, and peppered with other illustrations to support information provided in the text, this book makes history come to life in an entertaining way. The long story of the giant's life in the public, and the amount of money that changed hands in his name is quite incredible. The Giant and How He Humbugged America will appeal to kids looking for a wild story, and perhaps even serve as a great example of why you shouldn't believe everything you see!
Dawn would most definitely have been lined up to see the giant had she been around in 1869! These days, her gullibility usually involves believing that her children actually did wash their hands when they say they did. She blogs at my thoughts exactly.