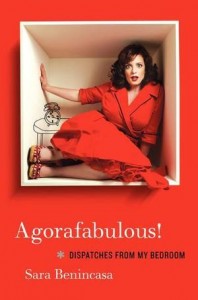 A funny book about panic attacks? A comedic take on becoming so agoraphobic that you cannot leave your own bed, even to use the bathroom? Does that even sound possible? Set your doubts aside, because Sara Benincasa has accomplished these grand feats with verve, bringing this reader to laughter-induced tears with Agorafabulous!: Dispatches from My Bedroom.
After a series of introductions that give readers a good sense of both Benincasa's sense of humor and the true gravity of anxiety, panic attacks, and agoraphobia, she proceeds to tell ten separate stories from her late adolescence to early adulthood that highlight the effects of the disorders on her life. It would appear that Benincasa got to a point where the absurdity of what she had lived through made her brave enough to actually tell it. And tell it she does, in every excruciatingly honest detail. Somehow she lightens the squeamish nature of her confessions with her incredible humor, at turns completely irreverent and deeply emotional.
Benincasa's journey from her first real panic attack during a high school trip to Italy to her first foray into stand up comedy is hilarious, touching, and filled with more than a few uncomfortable moments, especially for a reader like me who has personal experiences with anxiety. I closed the pages feeling as if Benincasa and I were suddenly new best friends, and I love her for her willingness to tell her wild story without blinking an eye.
Want a taste of Agorafabulous!: Dispatches from My Bedroom? I watched this trailer after reading the book, and this excerpt sets the stage for the opening stories. If you're giggling at the end of this, I urge you to get your hands on Sara Benincasa's memoir and settle in for some unsettling honesty that will incredibly have you laughing even more.
Dawn has an unbelievable amount of respect for memoirists, not only for their incredible memories, but their dedication to telling the whole truth. Her own (semi)truths are told on her blog, my thoughts exactly.