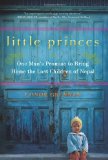 When Conor Grennan decided to start a year-long trip round the world with a 3 month stint at an orphanage in Nepal, he openly admits it was a good way to meet women. His main motive was adventure. When he arrived in Nepal and noticed the soldiers with guns, he was shocked. Shouldn't the brochure have emphasized the fact of civil war in a little bolder print?
You can't help liking Grennan immediately because he's so down-to-earth. I loved his description of his arrival at the Little Princes Orphanage, whereupon he is immediately mobbed by 18 over-excited boys, and he admits to feeling scared and overwhelmed. Grennan finishes his 3 month stint, then goes on to spend the next 9 months traveling the globe, as planned. But he can't get the kids out of his mind and it becomes clear to him that he needs to return to Nepal. Little Princes: One Man's Promise to Bring Home the Lost Children of Nepal
is the story of what happened next.
The change of heart was sparked by his discovery that the boys weren't really orphans when the mother of two of the boys showed up at the door. She looked so much like her sons that there was no question that she was who she claimed. And Grennan and the other volunteers found out their charges had been trafficked. They were all from a remote province where the fighting was terrible and even elementary-age children were being conscripted into the army. An unscupulous man approached families and offered to take their children to safety in Kathmandu, for a large sum of course, where he promised they'd be well-looked-after and educated. The poor families sold land, went into debt, sold all their cattle, to keep their children safe.
Meanwhile, unbeknownst to them, the kids were dumped onto the streets of Kathmandu while their supposed guardian returned for more children and more money. The mother that Grennan met had ended up coming to Kathmandu because she and her husband could no longer survive in their village, after they'd sold everything to pay the trafficker to take their children. Now she was sheltering 7 other kids, with no money to feed and clothe them. Grennan got them into an orphanage and left Nepal, only to receive a devastating email informing him that the 7 had been snatched by the same trafficker and were now lost to the overcrowded streets and teeming humanity of the city. The old adage of a needle in a haystack is more than apt. Yet Grennan vows to find them and return them to their homes.
The rest of the story is really remarkable. He enlists the help of local officials, battles the trafficker and his influential family. In spite of a debilitating knee injury, he manages to hike all over the steep paths and mountainous slopes, visiting villages only half-remembered by the children and finding their parents. He learns to deal with this respectfully, leaping chasms of differences in culture, language, and access to resources. In a race against the first snowfall, which would isolate the region for months, Grennan has to get back to Kathmandu to meet a young woman who's come for a visit after months of email correspondance that has led to a relationship beginning to form between the two.
Little Princes
is a breath of fresh air in a genre that is sometimes plagued by what is almost a sense of hagiography (for those of you who didn't study midieval lit in college, that means saint's biography. You can imagine how over the top they tend to be). Grennan is modest about his achievements, which frankly allows the reader to focus on how exceptional they really are. His heart is to return these children to their families. Although he succeeds at his initial venture, his work is not finished—Kathmandu is still full of trafficked and abandoned children. He's started an NGO—Next Generation Nepal—with the goal of returning them and reuniting families, and all proceeds from the book go to help. I highly recommend it.
Elizabeth lived overseas, in NW Africa, for nearly 10 years, which changed her outlook on life considerably. She blogs, sporadically, at Planet Nomad, so you can totally put her in your feed reader and she won't clog it up.