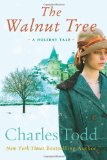 The Walnut Tree
is a holiday story by Charles Todd, and a great sort of side dish to their Bess Crawford series. Lady Elspeth Douglas is a young Scottish noblewoman with a lot of energy and independence, inherited from her father, who was also possessed of a strong love of speed which eventually led to his death. When she was orphaned as a teen, she was passed into the care of her cousin Kenneth, a traditional and old-fashioned man who disapproves of his niece's streak of modernity.
The novel opens with Elspeth in Paris, visiting a friend from her school days who is pregnant with her first child. When they were schoolgirls, Elspeth had a crush on Madeline's handsome brother Alain, and now Alain seems to return the favor. On the eve of what would become known as the First World War, Alain takes her out for dinner, already in uniform, and asks permission to speak to her cousin after what everyone at that point hoped would be a two-month war. Elspeth grants it and accepts his mother's ring in pledge, although they are not formally engaged.
War breaks out, but Elspeth stays in Paris long after it's safe, caring for Madeline and her newborn son. When she eventually tries to return to England, she is caught up in troop movements, specifically the calling of all the taxis in Paris to ferry men to the northern front, because that was faster than trains. Stuck in Calais waiting for there to be room on a ship, she sees wounded men dying of thirst and begins to minister to them, going in and out of a small cafe with a pitcher. There she runs into an old friend of her cousin's, Peter Gilchrist, a fellow Scot with a handsome smile and dark eyes.
I'm hoping not to give away too much of the plot, but I will say that Bess Crawford does make an appearance. Lady Elspeth ends up having to choose between a strong liking and a burgeoning love, after she spends a few days looking after a man in a cottage with a walnut tree in the garden. As always with Charles Todd, there is a strong sense of the historical period, and I love how they (no I didn't get the pronoun wrong; Charles Todd is a mother-son writing team) write characters that are realistic yet true to their time period. One of my pet peeves is anachronistic story telling that puts modern sensibilities into ancient characters. It's true that people haven't changed over the millenia, but at the same time, people are shaped by societies, by times and cultural mores. Lady Elspeth is true to life, a spirited young noblewoman who takes risks and makes up her own mind, yet who isn't simply a modern woman in long skirts either.
The Walnut Tree
is lighter than their other books, but it's a lovely holiday read, perfect for a cozy afternoon with a nice hot cuppa (tea of course) by the fire.
Elizabeth did actually read The Walnut Tree
while enjoying a nice hot cuppa tea in a Doulton china mug near a fire. Learn more about her fascinating life at her blog Planet Nomad.