I'm convinced that the key to keeping my kids reading is keeping good books at hand. That means my ears are always open for recommendations, and I get books by those authors at the library or bookstore. I wrote a post over at 5 Minutes for Mom about some of the books that we've featured here in recent months. See below for links to these titles, and jump in the comments and tell us what your kids have read or what's on their list to try.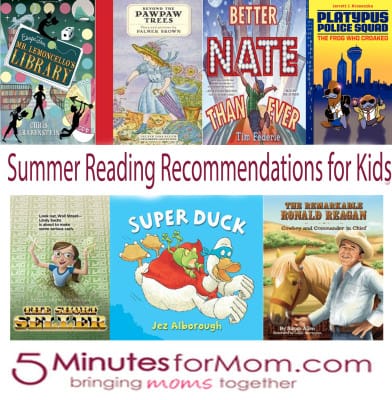 Escape from Mr. Lemoncello's Library (giveaway still open)
Beyond the Paw Paw Trees (a 5-Star Read)
Better Nate then Ever (giveaway still open)
Platypus Police Squad
The Short Seller
Super Duck
The Remarkable Ronald Reagan
As always, you can also browse by age: High School, 12 and up, 9 – 12, 6 – 9 or 3 -6, and you should always keep an eye on our 5-Star Reads page, for recommendations for all ages.