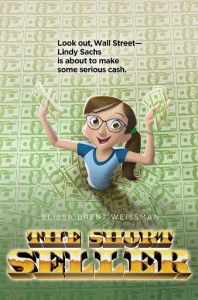 The Short Seller begins with middle school student Lindy Sachs getting diagnosed with mono, which means she's stuck at home. She's bored, bored, bored. Plus she has to miss out on the ice skating class that she and her best friend had signed up for, so her dad — a bit of an investing buff — decides to give her $100 to play the stock market. Lindy takes all that time and becomes an expert, reading the books her grandmother sends her (Buying Stocks for Dummies is her favorite), reading finance magazines and watching the cable financial news channels. She quickly makes a small profit by doing some quick buying and selling of inexpensive stocks.
But then she gets greedy. If she's making a little money using just $100, think how much she could make if she went outside the little fund her dad set up for her online, and used his funds. And that's where the trouble starts. When the market takes a big dip after Christmas, Lindy's losses are big too.
I read this with my 9-year-old son. We both liked it a lot. It hits many issues that middle grade readers enjoy:
friendship drama — in particular, growing out of one friendship and into another
family dynamics — She and her teen sister have a typical relationship, but stick together when times get tough, and her parents have just the right amount of wackiness to make the book funny, but not disrespectful.
an interesting storyline that includes lots of info on stocks and even takes us to the courtroom (you have to suspend your disbelief a tiny bit, but that's also something that I love about middle grade fiction)
A neat by product of the book — anytime we hear anything on the news or TV about stocks, or the market, or investing, my son's ears perk up.
Also by Elissa Brent Weissman, one of mine and my kids' all-time favorite reads, the Cybils Middle Grade fiction winner for 2011, Nerd Camp.
This giveaway is closed.
Check out our current giveaways. Subscribe to our feed. Follow us @5M4B on Twitter or on Facebook.