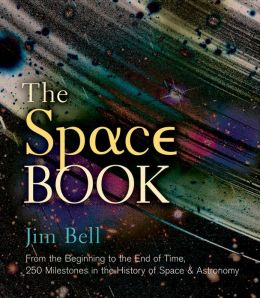 We are into space around here. Like wayyyyyyy into space. And by "we" I mean Mister Man who has a healthy fascination with all things in our solar system and beyond. When I showed him The Space Book: From the Beginning to the End of Time, 250 Milestones in the History of Space & Astronomy by Jim Bell, his eyes went wide.
Every page in this over 500 page tome covers a bit of history or discovery about space in a timeline from the Big Bang 13.7 billion BCE to"The End of Time" when the universe will end, admittedly unknown. Each opposing page has a beautiful illustration to demonstrate the point being made on the page, making it more approachable than the textbook it could otherwise feel like.
As a non-space geek, I appreciate that each moment in time is limited to a single page. While it distills some important facts too much for experts, I'm sure, it allows the book to cover a great breadth of information without losing readers to detailed descriptions and information that goes over their heads. Instead, it is  summary, often with footnotes linking the information on that page to other moments in time in the book that are related.
It is beautifully put together with the year in large print on the side column, the main idea at the top, and scientists who made the discovery of that phenomenon just below. Have a question about the rings of Saturn? Simply turn to the index, and you'll find all the places in history where various facts were discovered from the observations of Titan, Saturn's largest moon, to the composition of the multiple rings of Saturn.
The book is fascinating, even for someone who is admittedly not a space person (me). For my son who is the one leading the classroom discussions during the space unit, the book is a magnet. He will sit down and pore through it, randomly calling out facts and things he's learned. It's helping to fuel his love of space even more, and I have no issues with that. In fact, he's wanting to explore other books about space referenced in The Space Book to learn more about some of the topics he's discovering.
As beautiful as this is, this would make a great gift (Father's Day??) for anyone who has a remote interest in space. It is simple enough that my third grader can read it and get into it (he does have a high reading level though), but it's complex and diverse enough that an adult can also easily get lost in it.
We have a copy of The Space Book to give away to one of you. Leave a comment if you'd like to win. The giveaway is closed.
Check out our current giveaways. Subscribe to our feed. Follow us @5M4B on Twitter or on Facebook.
Written by Michelle who sadly has no interest in space or dinosaurs, much to Mister Man's chagrin. See how she makes up for it and manages to still be a good parent on her blog Honest & Truly! or follow along with her on Twitter where she is also @HonestAndTruly.