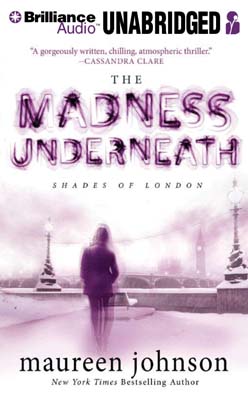 I have an issue reviewing books that are in a series. I want to introduce you to the books, whether you've read the first one or not, but I don't want to give too much away, in the event that you haven't read the ones that came before. I'm very big on "no spoilers." In fact, I avoid reading plot summary whenever I can. In fact, I usually read enough of a pitch or the back of a book or product description to see if I want to read it, and then I put it on my giant to-be-read shelf for it to wait its turn. When I pick it up, I don't usually revisit the plot, preferring to just let it happen.
I have enjoyed many of Maureen Johnson's YA books (linked to some of my reviews), and I enjoyed the first in this Shades of London series, the Name of the Star. I love the London boarding school setting.
This second book delves more into the paranormal aspect introduced in the first one, where it was a bit more peripheral, but it's still just a good clean story about teens — and in particular Rory Devereaux, transplant to England from the south.
There's no doubt that The Madness Underneath is a ghost story. It's set in a contemporary, realistic setting — which is my preference — but it's definitely a ghost story.
Like many second novels in series, this one ends with a cliffhanger, ensuring that we'll be back to see what Rory and her friends are up to. It wasn't too annoying, and I sort of saw it coming.
NOTE ON THE COVERS (as in, don't judge):
I don't always comment on covers, but I'm not sure what I think of this one, which is probably better than the original one on Name of the Star (I actually don't love the titles either). If I wasn't a die-hard Maureen Johnson fan, I'm not sure that the title or the cover (or the description, to be honest) would have appealed to me. But trust me — if you like traditional YA in a realistic setting that is not overly profane in language or content, you should check this out.
AUDIOBOOK NOTES:
This was a fun listen. Nicola Barber voiced the characters well, differentiating each clearly, and giving the book the right tone, humorous in places and serious when needed. You can listen to a sample at the Brilliance Audio Site. I started the series on audio, and I'll likely finish it that way too. It becomes a part of what I expect and enjoy.