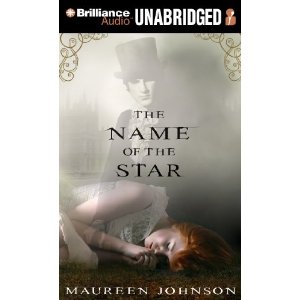 The Name of the Star is Maureen Johnson's latest YA book.
The ONLY reason I got this audiobook was because it was by Maureen Johnson, and I've thoroughly enjoyed her Suite Scarlett books. The blurb of this book said it was funny, so I trusted that somehow Jack the Ripper and foggy ghostly looking covers could be enjoyable in a funny way.
And it was!
Basically it's a boarding school story. Rory is a New Orleans' girl whose parents are living in Bath, so she opts to go to boarding school in London. She deals with the culture clash, Alpha girls, and everything you'd expect in the midst of some murders that are committed in the area, emulating Jack the Ripper.
A quick look at the description made me think that part of the story actually took place in 1888, but it doesn't. It's a contemporary story with a mostly realistic setting. That is, until the murder is captured on camera — or NOT captured, as the case may be. How can that be? I won't spoil the plot twist, except to say that some paranormal elements come into play.
There's a lot of humor, some romance, and some paranormal suspense. A great mix.
This is the start of the "Shades of London" series, but this novel stands fully on its own. I'm not sure where it will go next, but I do hope that some of the characters return.
AUDIO NOTES: This was well-read by Nicola Barber. It was pretty understated, and her British/New Orleans accents weren't all spot on, but I enjoyed listening to it.

Jennifer Donovan loves listening to stories as much as she likes reading them. Audiobooks make her happy. She blogs at Snapshot.