I really think that I might love novels in verse. This month(ish) I've read 4 — this one Addie on the Inside, the two by Ellen Hopkins, and another Cybils Middle Grade Fiction nominee (and National Book Award winner) Inside Out and Back Again.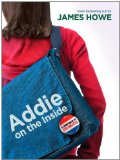 This book is written in verse (mostly unrhymed free verse), but don't let that stop you. It might be off-putting to some, but when you read the first few poems, you are pulled right into Addie's thoughts, and the verse is the perfect vehicle for it.
I'm not a poetry person, but it takes a character driven novel just one step deeper, and I'm growing to appreciate it (and might even seek it out in the future).
Addie is in 7th grade, and it's not easy. People call her names, and while she doesn't believe them, she just wants to be seen and understand. It's particularly hard for her because some of the people who make fun of her were her friends in elementary school. When a popular boy notices her, things start to change. On DuShawn's arm she feels a little more accepted.
A lot of little things that occur in the life of a young adolescent happen to Addie in this year — the loss of a pet, a first boyfriend, success, failure, and the loss of innocence as she sees the results of cruelty around her. They are ordinary in the life of a middle schooler, but told through the eyes of Addie, they become extraordinary and memorable.
I haven't read anything by James Howe (though he's written quite a range from Bunnicula to heartfelt works like these), including The Misfits (not in verse) that Addie on the Inside is supposed to be a "companion" to, and I didn't feel like I missed a thing.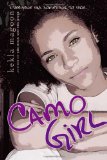 Another Cybils heroin that reminded me a lot of Addie is Kekla Magoon's Camo Girl. Though written in "normal" prose, the writing stood out to me from the get-go. And just like Addie, who really wants to help her friends who fit in less than she does, Ellie must be there for her friend Z. He's not just a misfit, he's odd. There's something not quite right with him since his dad left. He's retreated into the make-believe world that might be okay for a younger person, but is not at all okay for a middle-schooler.
Ellie has some discoloration on her skin, and the mean guys call her "Camo Face." Sometimes she feels invisible, and sometimes she wishes she was invisible. When a new boy Bailey moves to town, he befriends her. Maybe it's because she has the only baseketball goal in town, or maybe it's because she's the only other African American at school. Regardless, they become friends. He stands up for her, and he even starts to understand her relationship with Z: "He needs me."
But Z doesn't understand, and it causes him to retreat further into himself.
I'm not doing this book justice. I love Ellie. I like Bailey. I love Ellie's mom and grandmother who are dealing with their own pain — the loss of their husband/son — Ellie's father. They all help Ellie to see that who she is on the inside is what matters and it's someone she can be proud of.
Kids change in middle school, and old friendships don't always stand. Both of these books look at why that might be, and also hint that sometimes change is good, and sometimes it's not even permanent.
Don't miss a thing: Check out our current giveaways. Subscribe to our feed or video reviews on YouTube. Follow us @5M4B on Twitter or on Facebook.

Though I am a Round I panelist in this Middle Grade fiction category for the Cybils, my opinions are solely my own and are not meant to reflect the final outcome.
Jennifer has changed since middle school, and has probably been on the side of misfit and mean girl. She blogs at Snapshot.