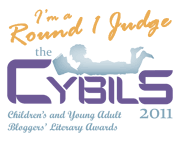 Fitting in is a common theme in children's lit: moving to a new town, moving up to middle school, or experiencing personal changes that make it more difficult to fit in with others are storylines that are common because many kids can relate to them. Each of these Cybils Middle Grade fiction nominees present this ordinary theme amidst extraordinary circumstances. My opinions here are solely my own and do not imply anything about the final outcome of this category.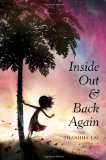 Ten-year-old Kim Ha and her family are living in Vietnam during the war. Things are rough. They have barely enough to get by, and her father is a military prisoner. They haven't heard from him and honestly don't know if he's alive or dead. When things get too dangerous to stay, they get on a boat to come to America. They are sponsored by a man from Alabama who helps them settle in, despite prejudice from many of the neighbors. It's not easy for Kim to fit in. She feels stupid for the first time ever because of her difficulty with English, and she's bullied at school. Her family and a warm-hearted neighbor help her make the transition.
I enjoyed this story that the author says is based on her own history. It was touching and caused me to have compassion on all the families who immigrate here with a language barrier and amidst difficult circumstances. However, it's written in non-rhyming verse. That plus the fact that it's set in the 70's in a foreign country (initially) will probably turn most kids off. However, even though I was unsure about the novel in verse concept, it actually made for an easy read, and if reluctant readers could be convinced to pick it up, I wonder if they actually would enjoy it?
Kids (and adults) judge books by their cover, and this one seems a bit juvenile and amateurish for a book that is a clever, smart story for readers in 3rd – 6th grade, but look beyond it, and you'll find a great fish out of water story with a twist.
The story opens with a boy (Collum) who is being raised by wolves. He's grown up enough that wolf dad is seeing him as a threat and more interested in eating him than protecting him, so wolf mom steals him a napsack of clothing from a nearby campsite and sends him to the train station. A kind woman recognizes his blazer and helps him get back home. Because of his "accent" (really just vocal chords unused to speaking), she assumes he's a foreign exchange student. Later, in town, he meets up with other kids wearing the same blazer.
Collum's social confusion is a source of laughs throughout as he identifies Alpha Males and Females and devours his meat at mealtimes amidst some vegetarians who call it "rotten and diseased." The way the unique story is woven together and the characters all come together makes it memorable. This novel has it all — the mix of fantasy (because really, though it's presented in a realistic way, what boy would be raised by wolves and then just emerge into society?), humor, and heart is what made it a big hit for me and a book that I will be recommending to many kids.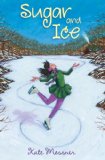 Claire thought she had middle school all figured out. She was looking forward to hanging out with her best friend, figure skating, being a junior coach, and helping out on her family farm, especially while the sap that they make into syrup is running. She's also found some new interests, including the math club. But when a famous Russian coach sees her skate at the Maple show, he offers her a scholarship to train with him in the ultra-competitive world of Lake Placid skating.
With her family's support, she accepts which drastically changes her life. Now she has to fit in her homework on the bumpy hour-long rides to Lake Placid, which becomes even harder when her coach keeps adding more and more practices to the schedule. She has no time for friends or math club anymore, and even though a couple of girls are nice to her, a couple are out to get her! When she can't land her jumps, she begins to wonder if she's cut out for this high-pressure world of competition.
This is an excellent book exploring themes of fitting in and figuring out who you are, friendship (and competitive enemies). Though Claire is in middle school, it's the kind of story that younger tweens will enjoy as well (and parents should find appropriate with only very mild romantic themes).
Previously reviewed Cybils nominees that also fit this theme:
Don't miss a thing: Check out our current giveaways. Subscribe to our feed or video reviews on YouTube. Follow us @5M4B on Twitter or on Facebook.

Jennifer Donovan fit in because she was ordinary, being known not for athletic prowess or overcoming obstacles, but for having a hard time keeping her mouth shut. She blogs at Snapshot.