I've noticed that I've become more introverted lately. It takes more effort for me to reach out to others, because I'm very content staying at home — reading or catching up on my DVR. My life is busy, so time alone or with no responsibilities is pretty highly guarded.
Imagine how validated I felt when I read about Jennifer Wilson's struggles to jump into her new life in Croatia that she chose for her family and detailed in her memoir Running Away to Home: Our Family's Journey to Croatia in Search of Who We Are, Where We Came From, and What Really Matters:
Closet shy. Huh. Jim had called it.

It's not that I was a loner. It's just that, over time, I'd come to prefer my own quiet company. I used to think this was because I had kids who peppered me with questions all day long and so I carved peace more than anything else. But I guess it was also tied to an emotional laziness I'd developed in my thirties. I'd never been a party girl. Then somewhere along the line, it got easier to curl up with a book than to go out and be social. Books had beginnings and endings clear-cut characters I could understand. In real life, my friends morphed into spouses or parents or committed singletons, and suddenly everyone seemed more sensitive and distant than when we were all in college together.

–Excerpt from the advanced copy of Running Away to Home, page 92
Ah yes. People are complicated. Books aren't always. They offer an escape and they are definitely easy. I'm glad I'm not the only one who feels that way, but I'm also glad that one of the ways I can escape into books is reading about people like Jennifer Wilson's brave experiences picking up and leaving America for Croatia for a year. It sometimes inspires me to put down the book and make a real connection or dream a real dream.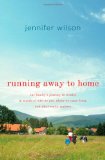 If you liked this insight that Jennifer Wilson offers, click through to my full review and giveaway of the book over at 5 Minutes for Mom. Leave a comment over there to win one of 3 copies of the book. If you leave a comment here about this On Reading post, you'll also gain an extra entry in the contest. The winner will be announced in our Monday 5 Minutes for Books column over at 5 Minutes for Mom on November 7.
The giveaway is closed

So, do you agree with this? Since you've gotten older have you become more introverted? Do books have anything to do with that?
Jennifer Donovan reads and writes (reviews mostly). You can find her here managing 5 Minutes for Books and occasionally blogging at Snapshot.