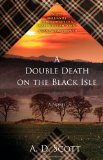 The small Highland town of Black Isle is rocked when a Molotov cocktail is thrown onto a fishing boat. The photographer for the local paper, an awkward lad with bright red hair, has a picture with a small figure fleeing the scene, but it doesn't occur to him what he's got until weeks later, by which time the focus has shifted off the bombing. By that point, two deaths have occurred. The first, the skipper of the bombed fishing boat who has recently married the only daughter of the local laird and main landholder, is found drowned at the bottom of a double waterfalls. The second is the oldest son of the main tenant-farmer, whose mother has long been a second-mother to the laird's daughter, having raised her as an infant.
New reporter Joanne Ross finds herself inextricably involved, as a combination of her job at the Highland Gazette and her friendship with Patricia Ord Mackenzie, the laird's daughter who is right at the center of the two deaths. Joanne is a single mother of two young girls who has had the gall to leave her abusive husband, although she manages to maintain relatively good relations with her parents-in-law. In small-town Scotland in the 1950s, a woman going into a public bar for a glass of wine with her colleagues is considered immoral, and the traveling "tinkers" can't assume they will get justice if falsely accused. Joanne knows that if she even spends too much time with her colleagues at the paper, her husband will be able to get full custody of the children. However, this is also a time and place of closely-knit relationships, of innumerable cups of tea shared with neighbors; a time when being a good reporter often meant knowing a place and its people.
A Double Death on the Black Isle
has an interesting story line, and the guilty party is not quickly identified, which makes for a good murder mystery. The characters are fully fleshed-out. Especially fascinating is the character of Patricia, unwanted by her mother, good at running the farm, pregnant by someone who wasn't in her social class and possessed of a mind to do something about it…maybe. The book ends with a twist that leaves you wondering, having to decide for yourself what really happened and who was really guilty. I thoroughly enjoyed it.
A Double Death on the Black Isle
is part of a series, although I didn't realize that initially. It stands alone just fine; however I'm looking forward to getting my hands on the first one, and can't wait to read the 3rd.

Elizabeth loves murder mysteries and really good, properly-made tea. She feels those two things go together. Learn more at her blog Planet Nomad.