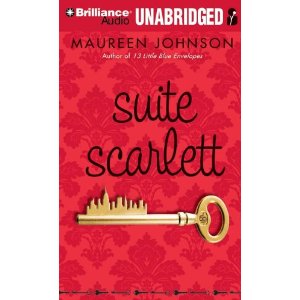 Suite Scarlett by Maureen Johnson is a somewhat old fashioned tale. For one, the family lives in a hotel. Isn't that just a perfect setting for a classic teen novel? Secondly, it's a family story. Scarlett isn't one of those YA heroines who spends time hanging out with friends, ditching school and going to parties. All her friends are off having summer adventures while she stays home to help her family run the hotel.
When she turns 15, she's supposed to take more responsibility in caring for one of the suites. As it happens, the mysterious and headstrong Amy Amberson, a former actress, moves in and hires Scarlett to be her assistant.
She's quirky, and her quirks give level-headed Scarlett an easy "straight man". She plays the same role to older-brother Spencer, who is as silly as you would expect a physical comedian to be. Lola, her older sister is sweet and kind and is dating the stereotypical rich guy. The youngest sibling, Marlene, 10, experiences her own adventures as a cancer-surviving "Power Kid."
This is a simple character-driven comedic novel.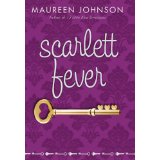 Scarlett Fever picks up right where the first book leaves off. Summer is ending, and Ms. Amberson has moved out of the Hopewell hotel, but Scarlett is still working for her while also trying to balance school, and Ms. Amberson's quirky new dog and new acting clients who include a young Broadway star who tries to befriend Scarlett.
The maturity level steps up a bit as more of the plot centers around Scarlett's siblings who are out of high school, but it has the same warm (and funny) tone as the first book.
I look forward to reading more adventures about Scarlett and her family and the motley crew that tag along with them.
Audiobook review: I listened to Suite Scarlett as an audiobook from Brilliance Audio. At first I found the narrator to be a little overly perky, but part of that was because she was supposed to be reading a guidebook entry. The audiobook was well-done, conveying the nuance of Scarlett's character (and all her siblings as well), and even though I read the second book, I still heard the narrator's voice in my head.
Content note for parents: At first I planned for Amanda (who is in 7th grade) to hold off a couple of years in reading this book. In general, I found it to be a great book for high schoolers. The language is mild, and Scarlett is the kind of kid we want our kids to be — smart, studious, level-headed. But she is 15, and her brother Spencer is older (maybe 19 or 20?), and so there are some themes that are more appropriate for high schoolers. For example, there is no sexual content (beyond some kissing), but it's clear that her other brother has used many of the rooms in the hotel to be with the ladies. There's no detail at all, so the reader can draw her own conclusion.
In the end, Amanda listened to it (and liked it). The product recommendation is "7th grade and up" and for most kids who watch any sort of prime time TV or PG-13 movies, it's going to be much tamer than anything that they have picked up there. For the most part, I've chosen the "I don't forbid, I discuss" route of reading with my growing-up daughter.
The second book (which Amanda hasn't read yet) has Spencer starring in a TV show as a young guy who made his fortune in the p*rn industry. In my mind, the book would be stronger without it, but he is supposed to be skeezy, so the end message is that p*rn is skeezy. . . .
But in general I really like Scarlett and her family. I like that there is some good mostly-clean YA lit for smart savvy high school girls to enjoy — a story that doesn't revolve around hooking up or getting drunk or rebelling against your parents.
And because Carrie knew she wasn't going to listen to the audiobook that Brilliance provided in our BookBloggerCon swag bags, she gave me her copy to give away to one of you! THIS GIVEAWAY IS CLOSED.

So please leave a comment if you'd like to win the Suite Scarlett audiobook (U.S. addresses only). I'll draw a winner on September 1.
Check out our current giveaways. Subscribe to our feed. Follow us @5M4B on Twitter.

Jennifer Donovan loves going back in time, reliving her teen years via YA lit as her own daughter approaches them in real life. She blogs about their life in Connecticut at Snapshot.