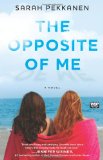 For some reason, I've always been fascinated with sibling relationships, especially those of twins. Could all those widely spread stories be true? Are there twins out there who can finish one another's sentences and physically feel the pain experienced by the other? Well, if you asked that of Lindsey, one half of the Rose twin sisters at the center of Sarah Pekkanen's debut novel The Opposite of Me, I'm fairly certain that she would simply laugh in your face.
Lindsey and Alex, fraternal twins, hardly have a close sisterly bond. In fact, the distance in their relationship is made of much more than the simple miles between Lindsey's life in New York City and Alex's in Washington, D.C. Told from Lindsey's perspective, there are significantly different roles that she and her sister have played their entire lives- one that left smart and capable Lindsey consistently in the shadow of the stunningly beautiful Alex. Lindsey has embodied her role by becoming so successful in her career at an elite advertising agency that she is poised to become a twenty-nine year old vice president.
What happens, then, when every aspect of life that has come to define her suddenly changes? Unable to share her new reality when she takes up temporary residence with her parents in suburban Maryland, Lindsey takes to hiding the truth while she attempts to build a new life, focused on professional success, of course. Naturally, complications pop up, and a series of events leads Lindsey to question how she has always defined herself… and perhaps her sister, as well.
In all honesty, I found the second half of Pekkanen's novel to be much more appealing than the first half, perhaps because it took a little while for me to truly understand Lindsey. The depth of her character becomes revealed as her life changes drastically on the career and personal fronts, and as a result, she appears more believable and likable, in my opinion. I thought this novel was very well-written "chick lit," not subscribing to the more fluffy aspects of that label, while certainly still appealing to female readers. Emotional exploration into sibling relationship marks the core of The Opposite of Me, but there is much more self-discovery happening here as well. An often amusing and endearing novel!
Dawn has often wondered what life would have been like with a twin… chances are there would be a sister site to her blog, my thoughts exactly.