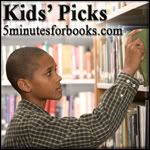 My kids have enjoyed reading this summer. My daughter (almost 12) has read a handful of books in the last week alone. She's a machine (oh, how I wish I could stay in bed 2 hours after I awaken and read every morning).
Kyle (6) is finally sitting and reading chapters. I am over the moon!!
I'll be sharing some books that they enjoyed over at my personal blog, but I wanted to give you a hearty invitation to share on your own blogs or in the comments what books your children have enjoyed over the last month (or over the summer if you've been remiss in posting).
Visit our Join In page to find out all the details about all of our Tuesday community events, from Kids' Picks to What's on Your Nightstand, to a Children's Classics challenge. Join Us!

Check out our current giveaways. Subscribe to our feed. Follow us @5M4B on Twitter.
Tell us the age of the child who is doing the picking when you link up. Make sure the permalink goes directly to the post, not the front page of your blog.

Kids' Picks Participants
Powered by… Mister Linky's Magical Widgets.