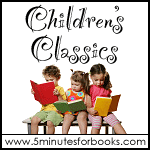 Now that you have spent the last six months reading and solving mysteries, we're happy to announce a new direction for our Children's Classics monthly feature- Award Winners! If your kids are anything like mine, they've astutely noticed the silvery or bronzed or golden seals on the book covers at the library, asking you to explain what they mean. Are you familiar with the honors yourself?
In the reading world that I share with my two youngest children, one that is dominated by picture books, the Randolph Caldecott Medal is held in high esteem because it recognizes outstanding illustrations in picture books. My oldest son has graduated to paying more attention to the John Newbery Medal winners, acknowledging the best of the best in American literature for older children. Rounding out the trio of the most well-known and respected American Library Association awards is the Coretta Scott King Book Award, distinguishing the best in African-American children's literature.
Starting next month, our Children's Classics Award Winners Challenge will begin, and we'll ask you to link up your posts, or chat with us in the comments section, about any award winning children's books you've read lately. Maybe you'll want to be very specific in your goals, planning and gathering award winners from your own collection, or perhaps you'll be compelled to write about a book with a fancy seal that your child pulled off the library shelf.
If you're game, we'd love for you to write an initial blog post indicating that you'll be participating in our challenge, at whatever level you wish, and link back up with us on this post. Beginning on July 13, and on the second Tuesday of each month through December, we'll run our monthly carnival post and you can link up any posts you've written about the award winners you've read in the previous month's time, on your own or with your children. With these award winners, perhaps the word "classics" won't necessarily refer to the publication dates, but more to the books that will most certainly be treasured for many years to come. Personally, I'm hoping to incorporate this challenge in my children's informal summer reading program over the next three months– since we will have more time to frequent the public library, what better time than now to seek out specific award winning books?
Will you walk down the "red carpet" of the children's literature world with us for some time over the next six months? Are you looking forward to perusing one particular award, perhaps reading through past years' winners and honorees, or are you looking forward to stumbling across some books adorned with the beautiful medal and honor seals during your next library visit?
Whatever your plan, we'd love if you would link up your own blog post of goals or ideas to this introductory post, and be sure to check back in with us on the second Tuesday of each month to keep sharing your experiences as well as to read about what other 5M4B community members have been reading, too!
Check out our current giveaways. Subscribe to our feed. Follow us @5M4B on Twitter.
Dawn hasn't received many awards in her day (except for the coveted "Meanest Mommy in the World" title, more often than she'd like), but she is kind of a big deal on her blog, my thoughts exactly.