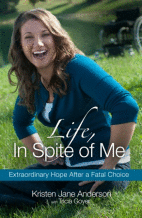 17-year old Kristen Jane Anderson had had enough. Life just wasn't what she planned. Losing a family member and a friend, then being raped by someone she knew and trusted had all taken their toll. One cold winter night, Kristen decided to end her life. She lay across railroad tracks near her home and waited to wake up in heaven.
Instead, she woke up to a nightmare. Life, without her legs.
Life, In Spite of Me: Extraordinary Hope After a Fatal Choice is Kristen's story of surviving her suicide attempt and much more. Kristen recounts the events of her life that led her to such drastic measures, and the hope she found as she learned to deal with the aftermath of her choice.
Told with brutal (and sometimes quite graphic) honesty, Kristen's story isn't an easy read. It is heartbreaking and eye-opening. It's the true life tale of a young woman who will struggle every day for the rest of her life because of a rash decision she made as a teenager. And, as the title indicates, it is a reminder that God can use even our worst mistakes for His glory.
I cannot thank the people at Waterbrook Multnomah enough for giving me the opportunity to read this amazing book.
Melissa has been captivated by books for as long as she can remember. She resides in Virginia and blogs at Breath of Life.