I was first introduced to this awesome Kids Can Press series when I reviewed Looking Closely Across the Desert and Inside the Garden (linked to my reviews).

Each book is based on a setting in nature, where a very close up element is featured with a simple rhyme inviting the reader to guess what it might be. The next page features another gorgeous photograph of the entire scene with detailed information about that element. In Looking Closely around the Pond, we look at and learn about ducks, dragonflies, turtles and tadpoles.
Looking Closely through the Forest features toadstools, aspen trees, millipedes and much more.

These books by Frank Serafini are the type that grow with your child. A young preschooler will enjoy the rhyme and guessing at the picture, while a young elementary child (or one of those obsessive curious fact-gathering types of kids of any age) will love the detailed facts included about the natural world. Since my first review, my own curious fact-obsessed son (now 6) has fallen in love with these books. When I offer to read any book in this series, it is answered with a quick "yes" and results in a few minutes of sitting-still togetherness (a rare delight).
While Looking Closely has realistic details and pictures, My Garden is anything but realistic, and because of that it will appeal to children in an entirely different yet equally inviting way.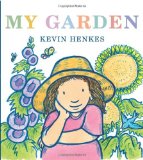 The young girl featured in this story likes helping her mother in her garden, but imagines what her garden would look like. It is a fantastical dream garden, with flowers that change colors just by thinking it, and interesting things popping up, such as buttons and umbrellas. Jelly beans would grow on bushes, and chocolate rabbits would inhabit it.
I recently reviewed Kevin Henkes book A Good Day. Kevin Henkes is apparently quite a well-known author and illustrator, but that was my first exposure to him. I loved the pastel drawings and the inspirational story. My Garden is his latest work. It is a beautifully oversized picture book with the same pastel drawings and confirms my appreciation of his work.
Be sure to click over to
5 Minutes for Mom
to
enter to win
one of three copies of
Klutz Glossy Bands
: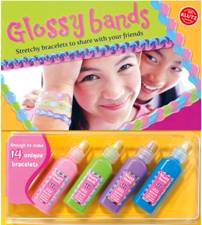 Jennifer Donovan wishes she had a smidgen of photographic or illustrating talent, but she'll have to settle for reading books by those who do. She blogs at Snapshot.