I am not a picture book mom — you know, one of those moms who leaves the library with armfuls of new picture books each week (I happen to know one who not only does that, but is trying to read all of the picture books in her public library. . . . ). I'm not a picture book person, but I am a board book mom. I love board books. Love 'em. The fact that they are relatively low-priced means that I bought them for my firstborn at almost every turn: through a children's bookclub, at the grocery store, discount stores, bookstores used and new. And the fact that they are sturdy means that I could encourage independent play without having to worry about ruining them (I'm sure we all have a few board books that were used as teethers, but aren't that much worse for the wear). My children's board books were always at hand for trips in the car, in the stroller, and even in the crib.
I recently (and unexpectedly) received A Good Day Board Book by Kevin Henkes. Apparently the book has been around for a couple of years (Kyle told me they read it in preschool in years past), but this is the first release in board book form.
It's a wonderful story that preschoolers and young elementary school students should be able to relate to. Everything is going wrong: the bird loses his favorite tail feather, the fox can't find his mom, the squirrel drops her nut, but then. . . everything changes. It's a great way to teach our children that circumstances change — sometimes in as little as a moment.
It also teachers colors (the yellow bird, the orange fox, the brown squirrel), and the reading-level was perfect for my budding Kindergartener to read himself.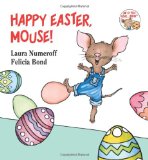 Another fun board book that is perfect for the season is Laura Numeroff and Felicia Bond's Happy Easter, Mouse!. It's an "If You Give. . . ." book, featuring the mouse from If you Give a Mouse a Cookie, but this one doesn't follow that pattern. I can see this appealing to younger readers with it's very straight-forward text and storyline.
The mouse colors some eggs the night before Easter, and then finds them hidden all over the house. Fans of If you Give a Mouse a Cookie will delight in the familiar pictures. This book also teaches colors and numbers.
Jennifer Donovan is sorry that most of her board books are being retired, but they are sturdy enough to save for her future-grandchildren, right? She is trying to record her experience of motherhood before it's over at her blog Snapshot.