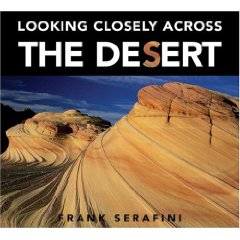 The "Looking Closely" picture books by Frank Serafini contain beautiful photographs, simple engaging text that would appeal to kids from ages four on up, and as a bonus — as they "look closely" at something, they have the opportunity to guess at what it might be. Younger readers can experience success as they remember the answer upon subsequent readings. Older readers can delve into the more detailed information provided once the mystery is revealed.
Looking Closely Across the Desert provides up-close looks at cactus flowers, bighorn sheep, agave, sand dunes and more. Fun and detailed facts about each item are shared in a very readable way.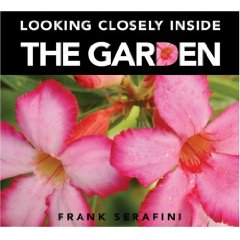 Looking Closely Inside the Garden bursts with color as up-close pictures and interesting tidbits are shared about earthworms, strawberries, spider webs, flowers and more.
If you have a kid who loves to look closer (and which kid doesn't?), be sure to check out this whole series for science made beautiful and fun.
If you go to the publisher's site, Kids Can Press, you can view some sample pages from both the Desert and the Garden books.
Managing Editor Jennifer Donovan also blogs at Snapshot about life with her tween daughter and preschool son.