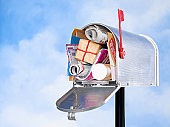 Since we're a team blog, we might get more books in our mailbox on any given week, and just like we strive to provide diverse reviews here — from baby to adult in all genres — that will probably be reflected in what arrives in our mailboxes each week as well.
Check out the other Mailbox Monday participants at The Printed Page.
JENNIFER:
Jennifer Weiner's latest Fly Away Home comes out in July. Though her last novel didn't thrill me, I'm a fan, and I hope that this one will.
I received a few unsolicited titles that got me or my family excited: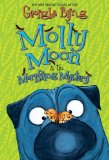 Molly Moon and the Morphing Mystery by Georgia Byng thrilled Amanda (11) who has read the others in the series.
Big Nate by Lincoln Peirce will appeal to fans of Diary of a Wimpy Kid. Though 6 year old Kyle is too young now, seeing him pour over the Sunday comics this weekend makes me glad that this trend is continuing.
Gilbert, the Surfer Dude (I Can Read Book 2) is right up Kyle's alley now so I can't wait to test it out with him.
DAWN:
LISA:
My Hands Came Away Red by Lisa McKay (who is not, interestingly enough, the same Lisa McKay whose book I just reviewed last week). This is the first selection of my church's summer book club. I devoured it quickly and think it will provide for some interesting discussion when we meet later this month.
Beauty: A Retelling of the Story of Beauty and the Beast by Robin McKinley. Carrie recommended this to me like forever ago and when I needed to round out my order so as to get free shipping, I finally indulged. I'm looking forward to reading it!
Mere Churchianity by the late Michael Spencer, the Internet Monk. I'm intrigued not just by the book's premise but also by the fact that this is his last, and only, book.
Check out our current giveaways. Subscribe to our feed. Follow us @5M4B on Twitter.