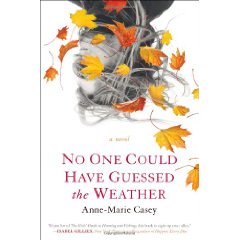 Take a group of women who have children of a similar age in common, and connections will be made, even if they are as different as the women in No One Could Have Guessed the Weather. As the product description tells us
There's Julia, who is basically branded with a Scarlet A when she leaves her husband and kids for a mini nervous breakdown and a room of her own; Christy, a much older man's trophy wife, who is a bit adrift as only those who live high up in penthouses can be; and disheveled and harried Robyn, constantly compensating for her husband, who can't seem to make the transition from wunderkind to adult.
This is not a Mommy novel, though all the women are moms. It's about women — their needs, their secret wishes, their wants, and how sharing those with other women makes it better. It's also about the connection that the women have to their city, New York.
The product description alludes to the NYC element, "Homesick and resentful at first, Lucy soon embarks on the love affair of her life—no, not with her husband (though they're both immensely relieved to discover they do love each other for richer or poorer), but with New York City and the three women who befriend her," but I think it's a bit misleading. While I suppose Lucy and her situation is a sort of baseline of the novel's plot, the love affair with NYC is actually felt much more strongly through the situations of the other characters.
The best way to explain this novel is as interconnected short stories, giving us glimpses into the lives of these mostly-wealthy New Yorkers. They aren't short stories, but the focus shifts from one character to another, jumping back and forward in time, from chapter to chapter. It worked for me, but if you don't like short stories at all, this might not be the book for you. I've appreciated them of late, so this actually propelled the book to something different in my mind, and I appreciated it.
Anne-Marie Casey's book looks at the wives of the preschool moms, and often times says something so true about a woman's motivation or her thoughts on herself, that I had to mark the page. I love women's fiction that explores the common themes of my life–friendship, marriage, motherhood–and this one hits all those bases. New York City as a wonderful setting becomes an additional character, producing a novel that is written with humor that resonated with me as a woman, a former resident of the outskirts of NY, a reader, and a writer.