Many thanks to Bostick Communications for sending me a copy of this book in exchange for my honest thoughts.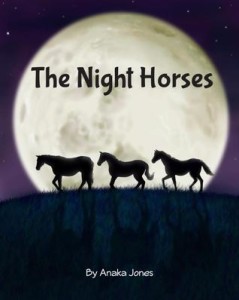 I'm not a horse lover but my daughter is one. This fact is what caused me to take a second glance at this new title by Anaka Jones entitled The Night Horses
.
In this book, Anake explores what she thinks horses on the farm might do after their people go to bed. (Sort of the same idea as Snowmen at Night
only horses. Pick your theme!) In Anaka's imagination, horses probably pull out disco balls and have a fine time on the barn dance floor. Sometimes they might play spa and do each other's hair, or perhaps they play cards using their feed buckets for chairs. Of course, they are so busy being, well, busy at night that they feel rather lazy during the daytime and are content to stand around and swish their tails in the fields. It's a cute enough picture book about horses.
What makes the book interesting to me is the fact that Anaka Jones is 12 years old. Not many people can claim that achievement at that age. Anaka lives right outside of Ann Arbor, Michigan with her family, two dogs, a lizard and a frog. Riding and grooming horses is a favorite past time of hers and so it makes sense that she would want to write a book about one of her loves. So she has done. It's always curious to see if child authors are in it for the long haul or are enjoying a once-in-a-lifetime moment. Time will tell but no matter what Jones ultimately ends up doing, she wrote a book and had it published and that's a pretty cool thing to have happen!
Carrie blogs about books on a regular basis over at Reading to Know.