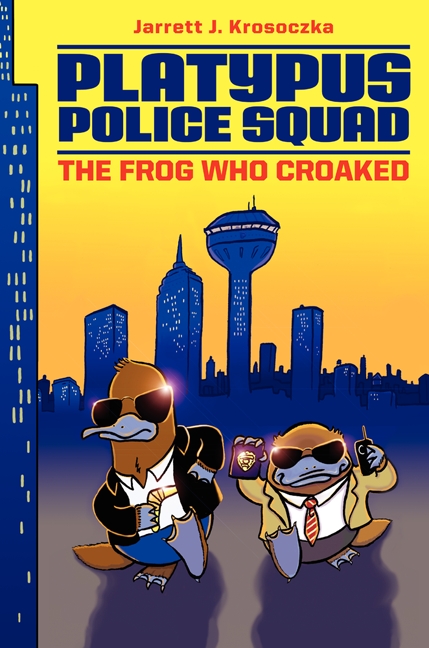 Zengo is a new police officer in Kalamazoo City. His partner is the seasoned O'Malley. The two personalities play off each other beautifully as they are trying to uncover an illegal fish dealing ring. The characters are original and funny and suspicious, making for a fun mystery.
This video gives a great idea of the tone and the story:
My 9-year-old son and I read Platypus Police Squad: The Frog Who Croaked as a read-aloud. We both loved it! It was made especially better with the voices that I felt the characters embodied — a Keanu Reeves voice for Zengo and a crusty Lou Grant voice for O'Malley. When Kyle was taking a turn reading, he happened to come upon the fisherman, and produced an awesome Boston accent.
I asked Kyle what he liked about the book. He said with a big smile, "It was just great all in all." This is a sparse review, I release (from both of us), but we give the book two thumbs up!
You can also get the free resource from the publisher's site: Zengo and O'Malley's Rookie Rules to enhance your enjoyment of the book.
Come back tomorrow for my write-up of the two video casts I watched of his virtual booklaunch (link added here), learning all sorts of stuff from Jarrett J. Krosoczka.
The giveaway is closed.
Check out our current giveaways. Subscribe to our feed. Follow us @5M4B on Twitter or on Facebook.