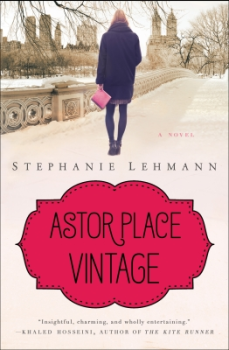 Amanda is the owner of a Manhattan vintage clothing store in 2007, and her work allows her to immerse herself in history through the clothing and accessories she accepts for sale. She especially adores New York City history, and many of her daily walks through the city see her trying to imagine how the streets looked years and years ago. Amanda's visit to an ailing 98-year-old woman looking to sell a mass of items marks the first of several intersections between her life and those of some Manhattan residents a century before. Astor Place Vintage, a new novel by Stephanie Lehmann, tells the stories of both time periods in alternating chapters, engaging readers to draw parallels and reflect on just how much has changed– or hasn't– in a hundred years.
What Amanda didn't expect to find in the lot of clothing offered for sale by the elderly woman was a piece of history itself in the form of a diary. Sewn into the lining of a fur muff, the diary brings 1907 NYC to life through the eyes of Olive Westcott, a young woman who recently relocated to Manhattan with her father. Olive differs from the "norm" for women at the time, dreaming of a career as a department store buyer instead of focusing on securing a husband and starting a family. Though she's articulate and obviously intelligent, in spite of her naivete about anything related to sexuality, the times simply do not allow for her to assert her independence in the ways she wishes possible. By reading her diary entries, Amanda is given an image of her beloved city and the way women lived in it a century before.
Some of Olive's struggles, and those of the women around her, share similarities with Amanda's life, even as their lifestyles and opportunities differ so greatly. Surely, Amanda can learn from Olive's experiences, if she'd only come to see her own situation clearly. As the lines between her life and the lives of those in 1907 begin to cross even more significantly, Amanda longs to know what came of Olive and those who she loved. What she discovers may take her own life on a different path than she expected.
Put Astor Place Vintage in your pool bag this summer for lazy afternoon reading that will transport you to New York City in all its glory in two distinct times in history.
Dawn's pool bag is never complete without her phone, a magazine or two, and the latest novel that has her in its grip. She hopes that this summer will also see a revival to her blog, my thoughts exactly.