I know that all girls don't love all things pink. I'm not sure that I did, and I don't think my daughter had a particular affinity for the color either. But my nieces do. And they happened to be here for a visit when one of those lovely unexpected boxes of books showed up from a publisher. I had also set aside a couple that I knew my eight-year-old niece would like, so I'll report on those too.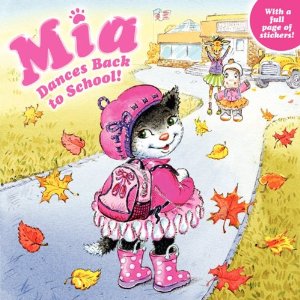 When I opened the box, which contained at least 7 or 8 picture books (more to be reviewed soon), I did what I always do with Kyle. I just set them out to perform my own focus group. My four-year-old niece knew what she wanted to read first, Mia Dances Back to School! Apparently this is a series of books by Robin Farley, but it was new to me and to my sister-in-law.
Mia is all set for her first day of school, but when she finds out her best buddies have been placed in the other class, she is not looking forward to it at all. However, learning that her teacher Mrs. Bunny used to be a famous dancer, draws her in. The inside of the book is about as pink as the outside. Another fun feature is that this book comes with a page of stickers of school supplies to use to "fill her backpack" on the back page.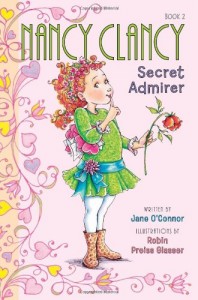 Did you know that Jane O'Connor has started writing Fancy Nancy chapter books? I've seen the "I Can Read" series and am of course familiar with the picture books that are quite popular with the girls, with good reason. The character is richly developed in these books, and so what a great transition for kids ready for chapter books. My niece, who is going into 3rd grade, knew that there were chapter books out and was very excited to see Fancy Nancy: Nancy Clancy, Secret Admirer. I didn't read all of it, but I did sample it, and it offers the same real friendship and school issues familiar to those who are in early elementary school. At 128 pages, this book is the perfect length for young readers launching into longer chapter books or any reader who loves Fancy Nancy.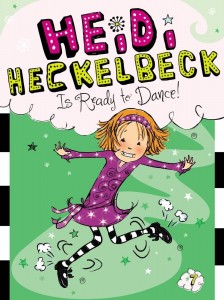 Last summer when my niece was here, I had gotten a copy of one of the first book in a series, Heidi Heckelbeck Has a Secret,by Wanda Coven. When Heidi Heckelbeck Is Ready to Dance! arrived a couple months before they were going to visit again, I couldn't wait to give her some reading material for her long car trip home.
I haven't read either of these books, but I know she really enjoyed the first one, has since bought another one, and was thrilled to receive this 7th in the series.
I know we aren't supposed to judge books by their covers, but we all do. I think that children (at least the ones I know) are particularly influenced by the way a book looks and those few sentences of descriptive copy on the back. If an appealing look gets them interested in turning the pages, I applaud the effort of the author/illustrator/publisher in making them extra attractive!