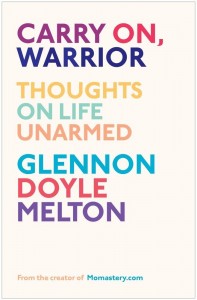 I was unfamiliar with Glennon Melton or her Momastery blog, but I was intrigued by this book, so I decided to accept an audio review copy from Simon & Schuster. First person fiction and memoir are my favorite books to experience on audiobooks, and this one is read by the author, which I appreciate, when it's done well, which it was.
This is basically a series of essays, but they are mostly sequential and don't feel like a random collection of blog posts, like some books from bloggers-turned-authors do. Glennon grabbed me right from the start, with her honest confessional style, yet never shared TMI, which is the line that many memoirists cross. She's up front with the fact that she's a recovering addict and shares a bit about that lifestyle and how she escaped it. And then she easily segues into the fact that we should all be more transparent about our stuff, our struggles.
This was one of those books that found me at exactly the time I needed it. I was struggling through some stuff on my own and realized that I needed friends to help me get through it. I decided to do the hard thing and reach out to people, which resulted in getting support, but also living life a lot more fully.
The full title of the book Carry On, Warrior: Thoughts on Life Unarmed hints at her life plan, to just carry on being the most real self she can be. But here's the thing — she's not just unarmed, she's utterly disarming. Who else could write an entire chapter without earning scorn about how her husband didn't do her birthday "right" the first year they were married, so she called him out on it, told him what she expected, and demanded a do-over the next day? I don't know how she does it, but she does. Because while it's a bit bratty, there's a whole lot of truth to it. We could sulk and complain and feel undervalued, or we could actually be honest with those who are closest to us about what we need and expect them to give it to us. It's sort of brilliant actually.
This book trailer will tell you in an instant if you want to read this or not, because it perfectly captures her theme and her voiceIt's also her voice, so it will let you know if you want to listen to it or not.
She mentions God in the video, and she does talk about faith a fair amount in the book, but as a conservative Christian, I'm not sure I can get behind her theology 100%. But that's not my place or the crux of my recommendation in regards to this book. She's honest about her struggle, her thoughts, her journey. So regardless of what you believe in the way of faith, unless you are completely against the idea of a higher power, I don't think that this part of the book will either edify you in your own faith or turn you off in reading about someone else's even if you don't agree.