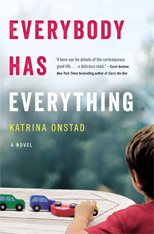 Ana and James are a modern day couple living a comfortable life. At least that's how it appears from the outside, to those who know very little or nothing about their unsuccessful attempts at becoming pregnant over the last few years. The multiple miscarriages, the constant doctor appointments, the money spent on pursuing a parenthood that would never come to fruition for them, at least not biologically- this weighs on each of them in unique ways. They never could have imagined becoming parents overnight, but it does eventually come to them via terrible circumstances in Everybody Has Everything, a new novel by Katrina Onstad.
Technically, they've become guardians to two year old Finn, the son of their friends Sarah and Marcus, who have been in a serious car accident that has left Marcus dead and Sarah in a coma. As the designated guardians, their "tidy, urban lives" suddenly take a completely different path than the one they've become accustomed to. (That quote is from the back cover description, and that particular phrase really struck me.) Beyond the tragedy of a lost friend and the questionable state of the other, one might assume that Ana and James could adjust to this new role in Finn's life, especially considering their previous efforts at becoming parents.
However, it soon becomes obvious that Ana and James are on very different wavelengths when it comes to this parenting role, and their natural instincts differ quite greatly, and not in the way that fits most gender-based assumptions. James is in a particularly vulnerable place in life, having recently lost his job, and this role as surrogate father fills an empty space for him, logistically and emotionally. Ana's personal history, including an emotionally shunted childhood, has had a serious effect on her ability to connect to other people, something that she's aware of and often questioning. Both James and Ana individually question their own self-worth, though they have difficulty communicating any of their deeper emotions with each other. The arrival of Finn only complicates their already tenuous states, though in different manners.
With this plot, I wondered if I'd be met with a style of writing that leaned more toward the "chick lit" or fluffy genre, but there was an intensity that made this much more weighted and seriously toned. There was a feeling of slight discomfort throughout the entire book, the emotional baggage of the characters never lightening up enough to feel breezy about the reading. But the tension gave depth to the characters and made for a darkly entertaining read. In particular, I found Ana's early assessments of caring for a toddler to be insightful, if perhaps a bit more fearful than my own experiences as a mother of three. Maybe it's a result of the serious car accident, but Ana sees potential danger at every turn. When they bring him to their home for the first time, James sits him down for lunch at the breakfast bar on a high stool that Ana quickly realizes is a fall just waiting to happen, but James acquiesces to his wishes, not wanting to upset him immediately.
"Finish," said Finn, dropping his sandwich and pulling himself to standing. Within a second, he had his arms high, a diver preparing for his descent. Ana let out a yelping sound, and James rushed toward the boy. Ana breathed quickly; the danger Finn brought with him felt all-encompassing, like the three of them had been submerged together in a water tank of sharks.
Onstad creates a compelling character study and a heart-wrenching drama in Everybody Has Everything, keeping the characters believable and the emotional intensity ever-present. If you're looking for a substantial character-driven novel, check this one out.