I was invited to see an advance screening of The Lone Ranger movie, but my opinions are my own.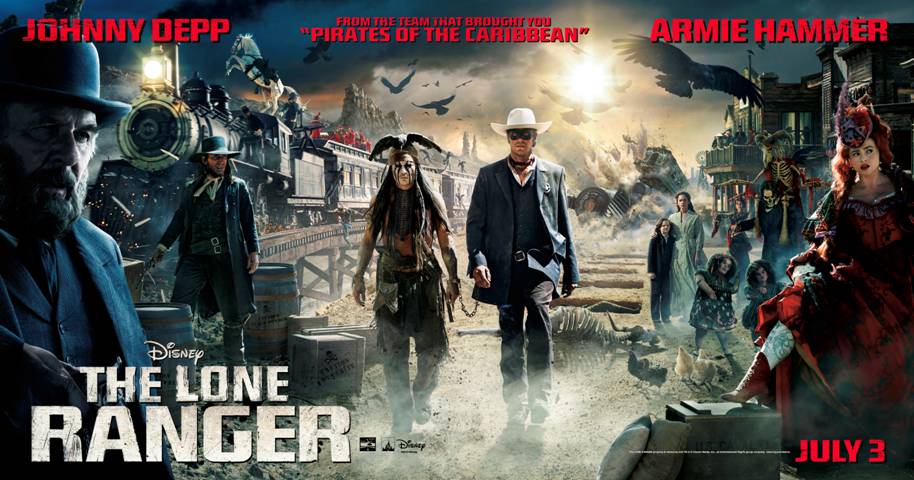 I wasn't exactly sure what to expect from The Lone Ranger movie, but based on the previews, I looked forward to seeing Johnny Depp do what he does best — weird, quirky characters. He delivered. His portrayal of Tonto was great. Armie Hammer, as the Lone Ranger, was awesome as well. I did not think that he had the range (any range, to be honest) to add anything to a character, but he got me with this role.
The movie also frequently makes fun of itself and the Lone Ranger franchise, which I thought was funny, though it pulled you out of the time period a slight bit.
This movie is produced/directed by Jerry Bruckheimer and Gore Verbinski, the same team who brought us The Pirates of the Caribbean movies. If you like these movies, particularly Johnny Depp as Captain Jack Sparrow, I'm pretty sure that you'd like this one.
I definitely liked it, but see below before you decide if it's for you and your family.
What Parents Should Know
All of the previews show the funny quirky stuff, but this movie earned its PG-13 movie from violence and intensity. I'm not particularly squeamish, but I was definitely glad I had not brought my 9-year-old son with me to the theater. The movie is about the war between the white men who wanted to expand the railroad into Comanche territory and the Indians who occupied that land. There's lots of war, lots of killing (some of it twisted and odd), even a massacre or two.
There's also a few instances of some mild language (d*mn and h*ll as I recall).
Even if the violence wouldn't bother you or your child, it's a very long (2 1/2 hours) plot-heavy, dark film that I'm not sure children younger than 11 or 12 would enjoy. It's much like the later Pirates of the Caribbean movies.
Want more?
Like Lone Ranger on Facebook and check out the official site.
What about you?
Have you seen The Lone Ranger? Do you plan to? I'd love to hear your thoughts in the comment section, and as always, feel free to ask specific questions anytime you want more information about what you see here, and I'll try to answer.