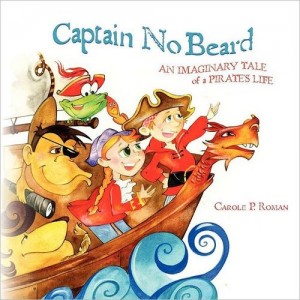 Shiver me timbers! (That means "Oh my goodness" in pirate, see?) If your kiddos enjoy a good, imaginative pirate tale then look no further! This title by Carole P. Roman is pure delight.
Join Captain No Beard and his crew as they travel the seven seas (or, at least, one very dangerous one). Meet Mongo the mast-climbing monkey, Linus the loud-mouthed lion, and Fribbit the floppy frog as they learn what it means to be a pirate. Captain No Beard and his cousin, Hallie, are off on an adventure to learn pirate lingo, learn what to do in a storm, and how to swab decks. But no greater peril faces them then the coming of a dangerous and unknown mermaid! What will happen to Captain No Beard and his crew? Well, you'll just have to read to find out, won't you?
I was sent a copy of Captain No Beard: An Imaginary Tale of a Pirate's Life
in exchange for sharing my honest opinion about the book. My honest opinion is that this book makes for a fun read aloud. My kids have enjoyed reading and looking through it on their own and this title has received a fair amount of attention since its arrival at our house. A quick glance at Amazon shows that there is a second title in this series entitled Pepper Parrot's Problem with Patience
. The second title seems to be more focused on teaching children a virtue. This first title exists merely to get the reader's imaginative juices flowing with the telling of a good story.
We've enjoyed this one and send our thanks to the author, Carole Roman, for sending a copy of this our direction in exchange for our opinion.
Carrie writes book reviews from a Christian worldview over at Reading to Know.