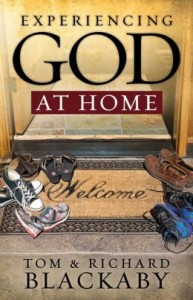 I admit that I had low expectations for Experiencing God at Home
when I cracked open its covers. I feel like so many books directed towards Christians these days are watered down glimpses of the gospel which do nothing to encourage and inspire. I can't tell you how many titles about the family or my Christianity I bypass simply because I don't believe publishers are producing much "meat" these days when it comes to digging into scripture and making applications direct from the Bible. That said, I opted to give Experiencing God at Home
a go. And let me tell ya, I'm so glad I did!
Truly there is nothing terrifically deep in this book when it comes to how you can grow your children up in the knowledge of Christ, per se. There are several titles on the market which stand at the ready to encourage you in your parenting style with a list of do's and don't's (many not based on scripture at all). While the Blackaby brothers are here to encourage you as a parent and a family builder, they do not focus so much on "10 rules to follow to grow obedient children" in so much as they are here to affirm and confirm the fact that scripture is relevant and prayer is a necessity. Do you long to build a Christian home and you aren't quite sure how to go about doing so? Or perhaps you've grown discouraged in your Christianity journey, or are floundering a bit in the faith? If so, this is a book I feel safe in recommending to you.
Reading this book is like sitting down with some older, wiser friends. Tom and Richard Blackaby wish to encourage the reader and give a little hope that a Christian family is one worthy of building. You can pretty much boil down their advice to two main points: 1. Read your Bible; and 2. Pray. These, they argue, are the most important things you can be doing as a parent. You can do other things too, of course, such as join a good church, and confess your struggles to other members of the church so that they can pray with and for you, attend conferences and read good books on the subject! All of these other things are good and valuable but nothing so much as reading your Bible and spending time in prayer.
I appreciate the tone of the book, the commitment to the Word of God, and their desire to always point the reader back to it. A lot of newly published books are filled with a lot of personal stories from a collection of individuals polled off the streets. The sharing of personal stories seems to be a way that a lot of authors like to communicate and the Blackabys are no different. They do share of their own struggles and give examples of their own parenting strengths and weaknesses to help encourage the reader. However, I was impressed by the number of scripture references and Bible stories scattered throughout this book which the reader can use to practical apply scriptural principles and truths to their own life circumstances. I really, really appreciated the heavy use of scripture amid the solid counsel.
Experiencing God at Home
provided me with the encouragement I've been needing of late. It's very hard to raise children to know and love the Lord in a world which rejects our faith. (Sometimes it is rejected really loudly and sometimes really rudely! Sometimes both!) Christianity is not viewed as an acceptable religion at present and it can become discouraging to feel as if you are going at this parenting thing largely alone. This book came, for me, at the perfect moment. I would also happily recommend it to anyone who needs fresh vision and hope as they, too, seek to raise their children to know Christ.
Many thanks to Shelton Interactive for sending me this book in exchange for my honest opinion. I honestly was refreshed and encouraged by it, find it a valuable resource, and can recommend it with a very clean conscience!
We have a copy for one of you (U.S. only). Leave a comment if you'd like to win. We'll announce the winner in our July 17 giveaway column. The giveaway is closed.
Check out our current giveaways. Subscribe to our feed. Follow us @5M4B on Twitter or on Facebook.
Carrie writes book reviews from a Christian worldview over at ReadingtoKnow.com.