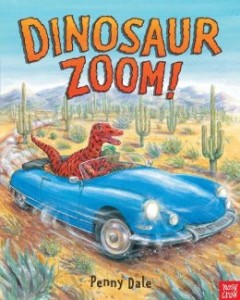 I've received a handful of new releases lately, two of which stood out to me as being super cute. Without further ado, I'd like to introduce you to Dinosaur Zoom!
, by Penny Dale. This book disappeared from my presence the moment it entered into our house. My boys got a hold of it and took immediate possession. Dale has combined dinosaurs with vehicles in an attempt to discuss the concept of colors with great success! First we see a red dinosaur racing through the desert, followed by a brown dinosaur driving through the rain, etc. All dinosaurs are headed in the same direction – to a surprise birthday party! The illustrations are beautiful and the story cute and clever. If you are trying to teach a child their colors and if they like dinosaurs, this book is a win-win!
Companion title: Dinosaur Dig!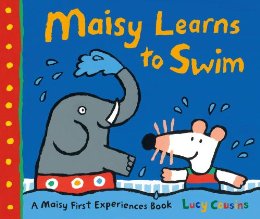 Fans of Maisy Mouse will be delighted to see this new title – Maisy Learns to Swim
– which was released earlier this year. Here is a concept most young children are familiar with! It can be a scary thing to learn how to swim but Maisy is here to make the idea a little bit more comfortable. In this new story, we travel along with Maisy and her friends as they gathers up their swim gear for their lesson, gets dressed in their swimsuits, braves cold water and, finally, learn to float and blow bubbles.
Our family has some swimming lessons coming up and so this book sure is handy at the present moment. Swimming is exciting and so is this book! Swimming can also be scary (and cold!) and this book recognizes the fact. Another great release from Lucy Cousins!
Many thanks to Candlewick Press who sent the above two titles my direction in exchange for my honest thoughts.
Carrie blogs about books for the whole family over at Reading to Know.