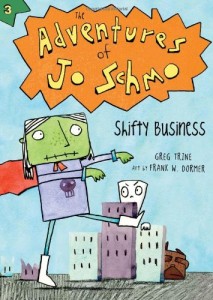 Shifty Business is apparently the 3rd book in a series, The Adventures of Jo Schmo, written by Greg Trine and illustrated by Frank Dormer. This usually bothers my son (age 9), to not read from the beginning, but we were both able to jump in with no questions left unanswered.
Jo Schmo is a 4th grade superhero. She fights crime in her town in the traditional way of superheros — showing up to save the day from bad guys. I'm not sure how she got to be a superhero, but I think there's a mention made of the fact she inherited it. Her grandfather Joe helps her use the superhero manual to find out more about her powers. She seems to already have mastered the knuckle sandwich and stopping a speeding train. In this story, she begins to learn shape shifting, which has her fighting crime for much of the book as Frankenstein's monster.
She also has a trusty sidekick, her dog Raymond. I really like the character of Raymond. He doesn't talk, but Jo interprets his thoughts. An example, which also shows the humor of the novel:
The car thieves sped toward her.

"I stopped a train, Raymond. I can stop a car."

Raymond gave her a look that said, "If you say so, but if you don't mind, I think I'll stand over here."
This was a quick, easy read for my 9-year-old, but he enjoyed the story. It would be more challenging for a beginning reader, but at 105 pages, it's the perfect length for the transition to chapter books or for older kids who want a quick read or are intimidated by longer books.